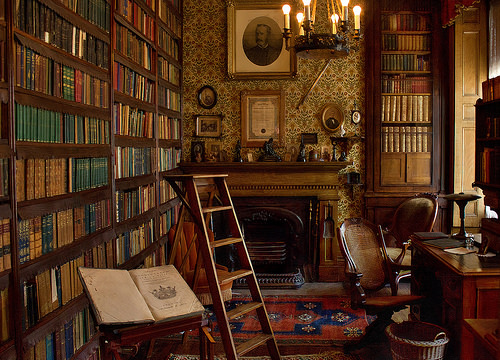 And you thought it was my computer room. 😀
When we drove by Whitehern House in May we just happened to show up on a "Doors Open" day so we had the unexpected fun of touring the house.
Of course, it's always forbidden to use a tripod in these historic places but sometimes one can get away with a monopod. Unfortunately, I didn't have mine with me so most of my interior shots weren't usable, however, the library had just enough light that I was able to get this.
Take a closer look at the bookshelves. They come up with the best idea for keeping dust off the tops of the books: long strips of fringed leather. I'd never seen that before.
Posted by Holly Cawfield on 2016-02-12 12:39:21
Tagged: , house interior , WhitehernHouse , HamiltonOntario , library , wood tones , fireplace mantle , study , historic house , heritage house , Hamilton , McQuesten Family