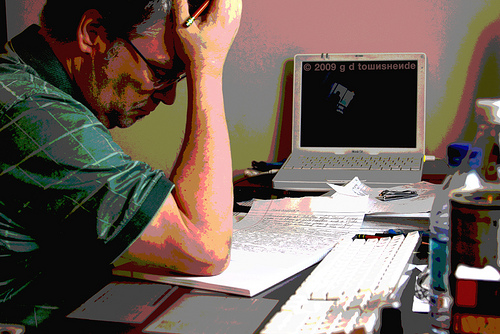 52 Weeks – Week 38 – The Outline of Things to Come (Things that Have Been)
© 2009 g d tошиѕнеиdе. All Rights Reserved. This photo is copyrighted material. It may not be reproduced, distributed, displayed, posted (including blogged), communicated, stored (electronically or otherwise), or used in any way without the prior written consent of the copyright owner.
_____
Substitute "damn" every time you're inclined to write "very"; your editor will delete it and the writing will be just as it should be.
— Mark Twain
Outlining a new story. Working title: "Homecoming."
[EDIT: After more outlining of this story I know this is not going to be a short story as I originally thought. I was looking to rework a short story I wrote back in April 2004—originally titled "The Green Man"—and it appears that my conception of the idea has developed and expanded considerably more than I expected. So, yeah, this means that I will soon be writing another novel. This will be the first that I've ever outlined, however. I've always been a "seat-of-the-pants" writer, but I've been trying different things lately, wanting to see if I can't find something else that will work better for me.]
_____
The Shape of Things to Come, by Audioslave
Well it's late in the hour,
And a few more grains of sand will fall,
On the colorful flowers grown upon the dust and moss.
Now I fear the worst is near.
I hold them close and count their years.
I pray a ray of light appears,
To shine down on us here.
Break down in the shape of things to come.
But I'm moving on like a soldier.
And I'll say it now, when all is said and done.
It's not ours to break the shape of things to come.
There's a crack in the clouds,
But only for a moment now.
Like an eye looking out,
The blue sky spies the roads we will go down.
I wonder what they hold for us.
I hold my family to my breast.
I fear the worst and hope the best,
Will come to see us blessed.
_____
I recently changed the template for my personal blog, and am working on changing the template for my writing blog (linked to below).
[
writing blog
]
Posted by g d tошиѕнеиdе on 2009-10-27 10:29:07
Tagged: , Canon EOS 50D , Canon , EOS 50D , EOS , 50D , Canon EF 28-135mm IS USM , Canon Speedlite 430EX II , Speedlite 430EX II , 430EX II , Speedlite , Self-Portrait , Portrait , Me , Moi , Gary , Guy , Man , Male , Posterized , 52 Weeks , Week 38 , The Outline of Things to Come , The Shape of Things to Come , Audioslave , g d tошиѕнеиdе , © 2009 g d tошиѕнеиdе