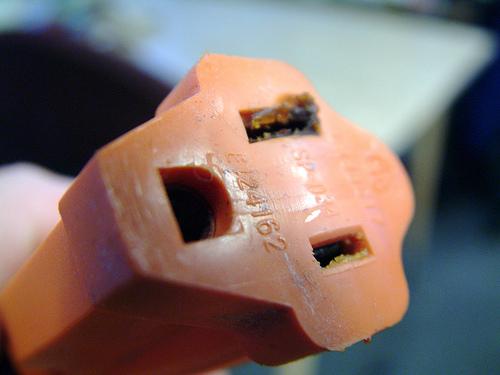 Until a few hours ago, this extension cord was supplying power to a cluster of computers + a monitor + a few odds and ends. It was also run across the top of a heater, which miraculously doesn't seem to have been the cause of the problem.
The photos don't make this as clear as I would have hoped, but there is some burnt plastic on the wider pin (I think it's the live one, but it could be neutral – I'm not au fait with the weirdo American way of wiring plugs). This forced me to use a screwdriver to lever out the plug that was in here – the insulation of this cord had melted onto its pins (don't worry mum – I did disconnect the whole thing from the mains first – I quite like life really).
I presume that at some point there was either a loose connection or some dust in the way, generating heat. I think we were quite lucky not to ignite the 'tasteful' carpetiles this was lying on.
Posted by eldan on 2006-06-02 02:27:50
Tagged: , doh , macro , lab