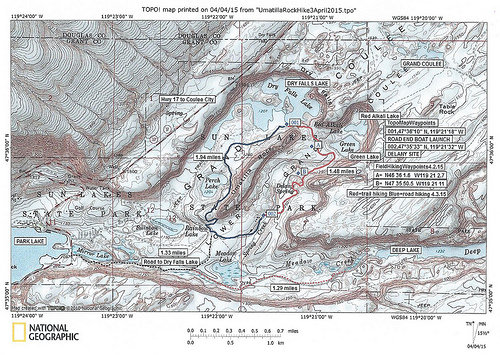 I didn't take the established route around Umatilla Rock, which is marked with white plastic posts with color squares, but took off toward Green Lake to see more of the 3.5 mile cliff face that was Dry Falls, during the last of the many huge Ancient Lake Missoula floods, that created the outstanding land features of the Grand Coulee. I took a few waypoints with my GPS just to practice with it (and found I need more practice!).
When I returned home I got on my computer and created this map using my National Geographic software. Usually I create such maps before I hike, but this was truly and extemporaneous, but most enjoyable hike. The red line on the map shows the trail and cross country portion of my route. The blue line is where I joined the dirt roads to hike back to my car. Only about 3.5 miles in total to completely circle the long narrow and impressive Umatilla Rock, but a most enjoyable spring hike. [Typo on map: hike was Friday 3 April 2015].
~~~~~~~~~~~~~~~~~~~~~~~~~~~
I often head for the slick rock canyon country of the American Southwest this time of the year, and I will no doubt head that way sometime before springtime slips into summer. But this year I have taken many short hikes within a 100 miles of my house and enjoyed each. In March there was the hike to Spirit Falls on the Little Salmon River and the Catherine Creek loop, with its many early spring wildflowers [3.18.15]. Then there was the early morning hike up Umtanum Creek Canyon following a night of heavy rain in the valley and a dusting of spring snow on the canyon rims [3.14.15]. There I had the pleasure of observing close at hand a pair of Northern Harrier hawks. The female Northern Harrier gave me a head high, flight "buzzing", letting me know it was time to leave THEIR territory.
When April arrives so did some nice sunny days so I have been hiking day after day, enjoying the warms of the sun on my shoulders and more and more wildflowers. I haven enjoyed the elk down in the sagebrush country, the deer, bighorn sheep, eagles, hawks, woodpeckers and all the other active creatures that seem to be as happy it is springtime as I am.
April 1st (no fooling) I hiked Cowiche Creek Canyon and photographed wildflowers. It was the sagebrush violet, that caught my attention on this hike. It was out in numbers. The smell of the serviceberry blossoms and the beauty of white and pink phlox blossoms, completed the enjoyable springtime hike experience.
April 2nd. Back to Umtanum Creek Canyon to hike it a little farther upstream, since the trails were no longer muddy as they were on the March 24th hike there. The Northern Harriers were there but too busy hunting the canyon walls to bother with me this time. A Downy Woodpecker provided the entertainment on this hike.
I watched him for a long time as he probed the branches of an aspen tree, first right side up and then upside down, extracting insects to eat with their efficient barbed tongue. I was surprised when he suddenly disappeared from sight as I was taking a photograph of him, then noticed he had entered his well hidden cavity nest in an aspen tree. Getting his nest "ready" and searching for food kept him much to busy to be disturbed by me.
April 3rd. With maps, daypack, hiking boots, GPS and camera – – I left home and headed for Banks Lake in the Upper Grand Coulee country of Eastern Washington. The "plan" was to hike Northrup Canyon and perhaps a couple other short hikes like Big Cave in the general area. That was at least the plan. Fate changed my plan though, as it often does and I ended up taking an impromptu hike at a place I had only thought about "stopping by". Serendipity strikes again and made for a great day.
My first stop was at the Lenore Lakes caves trailhead. My wife and I had stopped here on 1.24.15. It was cold and foggy and the fog never really did burn off on that day running around the back roads of Grand Coulee country, so we didn't hike up to the caves on that trip. Now with the sun out, I decided to take the short hike up and have a look.
There is a whole series of basalt caves about half way up the west facing Grand Coulee basalt cliffs. The caves look down at Lenore Lake, one of many of the lakes scooped out and originally filled by the flood waters of the ancient Lake Missoula, biblical proportion floods around 10 to 20 thousand years ago.
Native Americans used these caves as "seasonal food gathering camps" at least 5,000 years ago and I suspect that they were used for thousands of years before that. I am convinced that Native American were in the area at the time of at least the last of the great floods. Current discoveries in Eastern Oregon are continually pushing back the date of the Native American presence in what is now the United States.
Many artifacts have been recovered from the Lenore Lake caves, and the tule mats that they slept on and some other implements (scrapers, awls etc.) were evidently left in the caves between seasonal uses. The Native Americans, who used the caves most likely spent most of the year in more permanent dwellings along the Columbia River and tributary streams of the Columbia.
As I got back to my car I met a college botany class with their instructors collecting wildflowers in the area. I asked the friendly instructor about the desert parsley I had seen on the trail. It confused me. Some of the flowers were a deep bark purple brown color, others mixed right in with them had light flowers. In Cowiche Creek Canyon I had seen similar flowers and erroneously concluded that they were seed heads of a flower already bloomed and spent.
The lady instructor smiled and told me that the different colored blossoms I had seen were the same species: Fern-leaf desert parsley [Lomatium dissectum]. Nice to meet helpful people who know what they are talking about.
After leaving the Lenore Lake and heading north toward Dry Falls and Coulee City I thought I would check out a road I had seen on maps. It appeared that there was a road that would take you close to the base of the impressive 3.5 mile wide "dry falls" left by the ice age floods. With the size of those floods and the repetitive nature of them, the falls had moved up the Grand Coulee several miles. The current "dry falls" is where the last ended up after the last of the huge floods swept the area.
I had visited the Dry Falls viewpoint along highway 17 many times over the last 50 years, but never tried to get down below for a different point of view and experience. So I pulled in to Sun Lakes State Park (now at the encouraging of state government they try to call it Sun Lakes/Dry Falls State Park (which is a mouth full). I have never been to the state parks, as it had a reputation of being an overcrowded zoo of people in the summertime, and it just didn't interest me to join a large group of people trying to camp, fish, golf, swim, and drink too much beer.
But on this early April day the state park had only a few people enjoying it being so. I flagged down a park ranger, who was the wonderful combination of both helpful and knowledgeable. He gave me precise directions to Dry Falls Lake and told me that if I was careful (and I needed to be with a few transmission eating rocky places on the road), that my and my Honda Fit could make it there. He confirmed that it would provide a unique and enjoyable photo of the Dry Falls from plunge pool lakes perspective at the base of the dry falls.
So with Umatilla rock looming up over the narrow dirt road on the right and passing Perch Lake on my left I drove carefully through the sage and basalt until I started dropping down to Dry Falls Lake. I could see the big white visitor center to the west, which is the viewpoint are off highway 17.
There was only one vehicle at Perch Lake and the only vehicle I had passed coming the other way had two sea kayaks on top of it. I really didn't expect any other vehicles at the end of the road but I was wrong. Turns out that Dry Falls Lake at the base of Dry Falls, must be world class trout fishing. A dozen or more vehicles from all over the U.S. and Canada were parked there. An outhouse was located there but not much room for too many vehicles to park.
Cata-rafts were all over Dry Falls Lake – – fishermen. Artificial, barb less, and catch and release though you were allowed to keep ONE fish, according to the information board. Everybody was there to fish. I talked to several of the fishermen. Big German Brown and a few rainbows one told me. Another held out his hand showing be two packaged flies that looked like a yellow version of a wooly bugger fishing fly. He lamented. They are hitting this so well and these are the last two we have.
That would be the end of the story with me turning around and heading back out of Sun Lakes/Dry Falls State Park and heading north to Banks Lake except that I decided to climb up through the sage brush at the southern base of the steep cliffed basalt "sky island" called Umatilla Rock. I wanted to get a better photograph of Dry Falls Lake and its fleet of frenetic fly fishermen.
When I climbed up one cliff trail to watch a solo fly fisherman (he knew where the fish were and wasn't with the fleet of fishermen) fight and land a huge trout. I could see his fishing line indicator zipping through the water at high speed and the way his road was curved over I knew he had a big fish on. After taking photos of him landing the large trout (I think that was going to be the ONE trout he kept), I could see that trails took off through the sage toward other lakes at the base of the Dry Falls cliffs. With my new GPS I could mark my route and make my way on a cross country hike, so that is what I did.
I hiked about 1.5 miles cross country around the back side of Umatilla Rock. Reached a closed road at Delaney Springs camp. Walked it back to the road I had driven in on. Walked the road (with one short cut trail to Perch Lake) and in 2.5 miles of road walking, returned to my car at Dry Falls Lake. A complete circumnavigation of Umatilla Rock. What fun!
The day was all but spent and I had a long drive back home, so I put Banks Lake on the back burner and put my Honda Fit on auto pilot for home.
April 4th. Saturday morning turned out to be another sunny clear day. So I decided to take ONE more quick hike in Cowiche Canyon and use my Canon DSLR with a zoom telephoto to try to get some "different" style wildflower photos. Same wildflowers as I saw on my April 1st Cowiche Creek Canyon hike, of course. But this time, with the some flower advice from a friend, I was able to locate and identify some Death Camas in bloom in the canyon.
The same ranger that helped me with directions and instructions at Sun Lakes/Dry Falls state park, had also clued me in on Golden Currant in the area. Now I saw the Golden Currant in Cowiche Creek Canyon with "new eyes". Getting to know a little of the flora, fauna, and history of any area makes visit much more rewarding and enjoyable.
I am going to post some photographs of all these hikes on my Oldmantravels Flickr site. There is bound to be some duplications (same flowers different place), but I will try to weed out too much of the same type photos. Enjoy. OMT 5April2015.
Postscript: It isn't always that great being old BUT it sure is wonderful being retired to have the free time to hike and take road trips on any day of the week whenever weather and conditions are best. Life is good!
Posted by oldmantravels on 2015-04-07 03:42:56
Tagged: , Dry Falls , German Brown trout , Rainbow trout , cata raft fishing , Eastern Washington , Lower Grand Coulee , Coulee City , Sun Lakes Dry Falls state park , sage and basalt hiking , Washington highway 17 , Hiking topo map