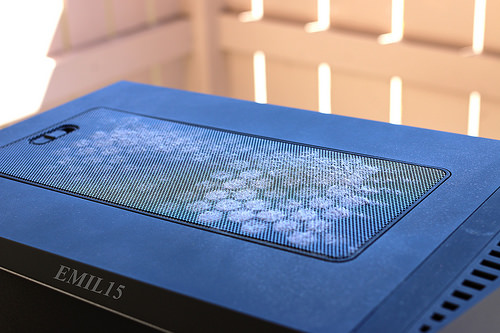 I live in Hawaii so my windows are open 24 hours a day. I place the case in a book shelf approximately 3.5 feet high. Its three feet away from the window so I'm assuming a majority of this dust is from outside. Right after cleaning this I noticed my CPU is 5 degrees cooler.
Under this filter are two Corsair 120mm fans were very dusty, and I had to use a few Q-tips to get a very good lair of dust off the fan blades. The motherboard and the other components had a very little to no dust particles on them. However the stock CPU fan blades had some dust on it.
Overall it was a simple clean and I really wish the front grill was removable for easier cleaning. This being a large ITX case made it simple to clean for someone with pudgy fingers. I highly recommend this case from BitFenix.
Posted by E_mil on 2015-03-15 00:17:12
Tagged: , ITX , BitFenix , Colossus , G.Skill , Intel , Corsair , PC , Power , HTPC , Spring Cleaning , Spring , Cleaning , Case , SFF , 600W , Dust , Dirt , Grime , Air , Computer , Review