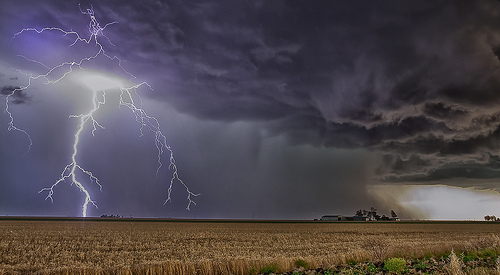 This afternoon JF and I drove west, followed the storm cells as they raced across the Darling Downs heading towards the coast and home I might add, thunder lightning and rain outside at the present, power gone, but I have my trusty generator with sine configuration suitable for the computer. We ran in front of this cell for ks, the wind was ferocious at times barely able to stand clinging to the tripods. The brown in front of the green tinge is actually dust whipped from the winds and was quite a sight the dust clouds racing in front of the hail and rain clouds.
Several changes of underwear involved in this little adventure as thunder and lightning does stress me out a little but was so pleased as finally finally got the lightning shots I wanted. The green tinge was hail and we raced through and away with stones as big as golf balls. Stopped and took a few shots and then off before it caught us at one stage thought had miscalculated and for some minutes caught at the front of the racing cell, quite eerie could hardly see in front of the vehicle for the billowing dust. The wind was ferocious and could feel the buffering although my vehicle(tank) is tons in weight.
This cell should hit the north coast now but last I looked at the radar a little north of Brisbane as the first cells were a direct hit on Brisbane causing havoc from reports I heard. The streaking white all over the image is I believe the first of the hail we experienced at this point.
Posted by southern_skies2 on 2012-11-17 11:08:13
Tagged: , Cecil Plains , storm , cell , hail , crop sky Darling Downs , Queensland , Australia , lightning , Elizabeth Barnes , South Sky Photography , Bongeen , flickrAward , flickrAwardgallery