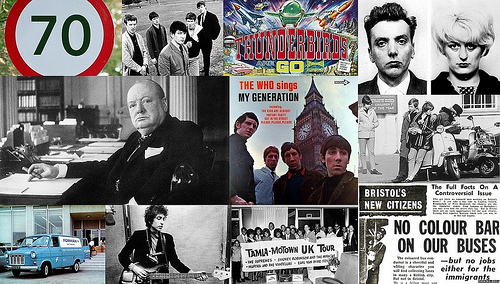 One moment that captures how much Britain has changed in the past 50 years was the death on Sunday, January 24, 1965, of perhaps the finest leader in our history.
'Tonight, our nation mourns the loss of the greatest man any of us have ever known,' the then Prime Minister, Harold Wilson, told the British people that evening.
He was referring, of course, to Sir Winston Churchill, the man who had led Britain through the darkest hour in our history and onwards to victory.
And in the days that followed, more than 300,000 people waited patiently in the cold to pay their respects to their fallen hero.
President, Lyndon Johnson, failed to attend Churchill's funeral.
Johnson was widely criticized—here and abroad—for his failure to make the trip. Many in the British government saw it as a slight. And in some ways it represented a minor setback in American/Anglo relations at a crucial time in the Cold War.
For when you look back at Britain in 1965, it seems in so many ways an utterly different country, not just in its skylines, fashions and faces, but in its moral and cultural attitudes.
It was a country in which older men still wore hats and carried umbrellas; in which millions of children sat the 11-plus exam to decide whether they went to grammar school or to a secondary modern; in which pornography was almost unknown, most people did not even have a telephone, and thousands of working-class families still had outside toilets.
At the end of 1964, Wilson's Labour government had come to power, promising to build a new Britain in the 'white heat of the scientific revolution'.
But the technological gadgets so familiar today would have struck the vast majority as the stuff of fantasy. Most had never even been on an aeroplane.
Indeed, if you want a symbol of how much Britain has changed in the past five decades, then just think about the difference between today's Premier League football stars – often foreign-born, living in gated communities and earning as much as £300,000 a week – and by far the most feted player of the day, who hung up his boots on February 6, 1965.
Almost incredibly, Stanley Matthews was still turning out for Stoke City at the age of 50. He played not for money or attention, but for sheer love of the game.
As one friend put it, he remained 'for all his fame, as down-to-earth as the folk who once adorned the terraces in the hope of seeing him sparkle gold dust onto their harsh working lives'.
To Matthews, who interrupted his career to serve in the RAF during World War II, the antics of today's spoiled Premier League superstars would have seemed inconceivable.
But he belonged to a generation that has vanished completely: reticent, dutiful and quietly conservative.
Like the death of Churchill, the retirement of Matthews – who was knighted in January 1965 as a reward for his extraordinary career – seemed to represent a threshold between old and new.
In sport, in culture, even in architecture, all the talk was of change.
Modernisation was all the rage, not least in the great cities of the North, where councils were competing to tear down the old Victorian streets and erect great high-rise monstrosities instead.
"On 19 April 1965, when Reggie Kray married Frances Elsie Shea… he had the event photographed by none other than the country's most famous snapper, David Bailey, who arrived at the church in a blue velvet suit with matching blue Rolls-Royce, for all the world like Cecil Beaton recording the Queen's Coronation of 12 years earlier."
It was indeed a year when class structures crumbled, a new aristocracy came to the fore with working class lads like Bailey, The Beatles and Michael Caine at the forefront.
But it was in the cultural sphere that change was really accelerating. The Beatles with the LSD-influenced Rubber Soul were swapping straightforward love songs for an imaginative introspection and existentialism, Dylan was stretching the boundaries of the pop song with his bile-splattered narrative "Like A Rolling Stone", Bridget Riley was conquering New York with her pre-psychedelia psychedelic paintings, John Fowles produced his astonishing The Magus, Dennis Potter and Ken Loach took television drama to a new level, Edward Bond's Saved, in which a baby is stoned, shocked the censors and the theatre-going public.
Above all it was the first year that the words pop and culture could be used together without attracting ridicule – except perhaps from the self-appointed champion of the old order, Mary Whitehouse.
1965 Timeline
17 January – The Rolling Stones drummer Charlie Watts' book, Ode to a High Flying Bird, a tribute to jazz great Charlie Parker, is published.
www.amazon.com/Ode-Highflying-Bird-Charlie-WATTS/dp/B0026…
21 January – The Animals' show at New York's Apollo Theater is canceled after the U.S. Immigration Department forces the group to leave the theater.
The Rolling Stones and Roy Orbison travel to Sydney to begin their Australian tour.
23 January – "Downtown" hits #1 in the US singles chart, making Petula Clark the first British female vocalist to reach the coveted position since the arrival of The Beatles.
24 January – The Animals appear a second time on The Ed Sullivan Show.
www.youtube.com/watch?v=ygJoV4FaAfQ
27 January – Paul Simon broadcasts on BBC radio for the first time, on the Five to Ten show, discussing and playing thirteen songs, twelve of which would appear on his May-recorded and August-released UK-only solo album, The Paul Simon Song Book.
6 February – Donovan gets his widest audience so far when he makes the first of three appearances on "Ready, Steady, Go!".
www.youtube.com/watch?v=qKqoKDsOuHE
12 February – NME reports that the Beatles will star in a film adaptation of Richard Condon's novel A Talent for Loving. The story is about a 2,253-kilometer (1,400 mi) horse race that takes place in the old west. The film is never made.
24 February – The Beatles begin filming their second film, Help!
Richard Rodney Bennett's opera The Mines of Sulphur is premièred at Sadler's Wells Theatre in London.
20 March – Kathy Kirby, singing the UK entry "I Belong", finishes second in the 10th Eurovision Song Contest in Naples, Italy, behind France Gall, representing Luxembourg.
www.youtube.com/watch?v=P3aD6MD6gew
23 March – Benjamin Britten is appointed to the Order of Merit (OM).
April – Michael Tippett is invited as guest composer to the music festival in Aspen, Colorado. The visit leads to major changes in his style.
11 April – The New Musical Express poll winners' concert takes place featuring performances by The Beatles, The Animals, The Rolling Stones, Freddie and the Dreamers, the Kinks, the Searchers, Herman's Hermits, The Moody Blues, Wayne Fontana and the Mindbenders, Donovan, Cilla Black, Dusty Springfield and Tom Jones.
24 April – It took 30 years to organise a walk from one pub to another. But then the walk is The Pennine Way , and the distance between the pubs is 268 miles. The walk involves crossing more than 400 stiles, 200 bridges, and enough peat bogs and steep slopes to break an infrequent walker's weary heart. And for those who negotiated the passage over many private properties it also involved tricky talks with a multitude of sometimes less than keen landowners.
The traditional starting point for The Pennine Way is the Nag's Head in Derbyshire's Edale , the end point The Border Hotel in Kirk Yetholm just over the border into Scotland. The trail, Britain's first National Trail, was the brainchild of writer and long time Ramblers' Association secretary Tom Stephenson, first mooted to the general public in an article in The Daily Herald in 1935.
After much parliamentary lobbying, innumerable negotiations, and great preparations of signage and information, the official opening of the Pennine Way came on April 24 1965, witnessed by an estimated 2,000 enthusiasts gathered at the beautiful Malham Moor in Yorkshire . Between 3,000 and 4,000 walkers now complete the trail every year, no easy task given the tough terrain and unpredictable weather conditions at some of the stages even in summer – the walk even defeated the great Wainwright. Those who tramp all 268 miles certainly deserve their celebratory drink in the well chosen finishing point.
5 May – Alan Price leaves The Animals, to be replaced temporarily by Mick Gallagher and permanently by Dave Rowberry.
6 May – Keith Richards and Mick Jagger begin work on "Satisfaction" in their Clearwater, Florida hotel room. Richards came up with the classic guitar riff while playing around with his brand new Gibson "Fuzz box".
8 May – The British Commonwealth comes closer than it ever had, or would, to a clean sweep of the US Hot 100's top 10, lacking only the #2 slot.
30 May – The Animals appear for a third time on The Ed Sullivan Show.
12 June – The Beatles are appointed Members of the British Empire (MBE) by the Queen. With no tradition of awarding popular entertainers such honours, a number of previous recipients complain and protest.
July – John Cale, with his new collaborators Lou Reed and Sterling Morrison, makes a demo tape which he tries to pass on to Marianne Faithfull. These are the beginnings of the Velvet Underground.
5 July – Maria Callas gives her last operatic performance, in the title role of Tosca, at the Royal Opera House, Covent Garden.
8 July – A minor figure in the Great Train Robbery of 1963, Ronnie Biggs has nevertheless become the most famous name among those criminals who pulled off the most audacious robbery of the sixties .
There is a tendency to glamorize the Great Train Robbers, to turn them into Robin Hood figures. They carried out a robbery that cost the country £2.6 million, the equivalent of maybe £45 million today – most of the money was never recovered. The assistant train driver was thrown down a railway embankment, and the train driver coshed with an iron bar, never being fit to return to work before his premature death in 1970.
Biggs had been detailed to look after the train driver brought to move the hijacked engine and carriage to the place where the gang had left their vehicles. The driver could not work the train, so Biggs and he were sent to load money sacks. In spite of this Biggs received a 30-year sentence.
On July 8 1965 Biggs and three other men escaped from Wandsworth Prison in a carefully planned and well financed operation. A ladder was thrown over the prison wall at just after 3pm as the men exercised. A furniture van with a platform on top was outside the wall, to hold the ladder in place and make the descent from the top rapid and safe. Prison officers who tried to intervene as the men fled were held back by other prisoners in the yard.
Three cars were waiting for them (and as a shotgun was found afterwards in one of the cars it is reasonable to assume they were prepared to use violence).
Biggs along with his wife and sons managed to slip out of Britain to Paris, where he underwent plastic surgery to alter his appearance, and where he obtained false papers that allowed him in 1970 to move to Australia after spending some time in Spain.
In Australia, however, he was recognized, and forced to move before fleeing the country when the chase threatened him again.
Biggs spent more than three decades in Brazil, cocking a snook at the British authorities who were unable to extradite him. He was kidnapped in 1981 and taken out of Brazil, but had to be let go on a technicality.
Biggs returned to the UK in 2001, a sick man, partly to receive health treatment, partly because it seems he hoped to be allowed to go free. He was, however, arrested and returned to begin serving the remaining 28 years of his sentence.
www.youtube.com/watch?v=aEbQbHZURZ8
13 July – The Beatles receive a record five Ivor Novello Awards.
4 August – Iain Hamilton's Cantos receives its world première at The Proms, performed by the BBC Symphony Orchestra and conducted by Norman Del Mar.
6 August – The Small Faces release "Whatcha Gonna Do About It", their first single.
The Beatles release the soundtrack to their second movie Help!
15 August – Just a couple of years earlier The Beatles were playing to audiences of a few dozen at some of their Cavern gigs in Liverpool ; on August 15 1965 55,600 fans crowded in to Shea Stadium, the home of baseball team the New York Mets, to hear the group play the first concert of their American tour. Or rather not hear them: with Beatlemania at its scariest (there were 2000 security personnel on hand, and the Fab Four arrived in an armoured truck), the band took the stage in the centre of the field to deafening screams; twelve songs later they left, the screams having drowned out what they had been playing. For the record the songs that night included: Act Naturally; She's a Woman; and Twist and Shout. It mattered little to an army of women and girls determined to scream, cry, faint and worse.
With the band members unable to hear themselves in spite of using the massive stadium PA, the concert descended to the absurd, John Lennon at the end playing the keyboard with his elbows to demonstrate the futility of the exercise. Futile, but profitable: the concert grossed more than $300,000, and is seen as the genesis of Stadium Rock.
26 Aug – They were only four among a total of 189 receiving honours that day, but it was obvious who the photographers at the gates of Buckingham Palace wanted to capture arriving, and who the 4,000 or more screaming fans were there to see – The Beatles . They duly arrived in John Lennon's Rolls in plenty of time for the 11am investiture, in spite of the fact that, according to John Lennon , they didn't believe in the institution of the royal family. Even inside the Palace they couldn't escape the fans, or parents of fans at any rate, having to sign autographs for others there on the day.
It was something of a shock in the sixties for pop stars to be so honoured, though now it is becoming commonplace – politicians love rubbing shoulders with their rock heroes, even if some of those shoulders must be decidedly arthritic by now. Harold Wilson knew a popular band wagon when he saw one, and jumped on, awarding The Fab Four MBEs – Member of the Most Excellent Order of the British Empire.
Years later John Lennon, who returned his MBE in 1969 as a protest against Britain's stance on Biafra and Vietnam, claimed they had smoked cannabis in the toilet at the palace, though George denied it. But when Lord Cobbold, the Lord Chamberlain, called out their names they stepped forward as instructed, bowed politely in the right places, exchanged a few words, and walked away backwards so as not to turn their backs to the Queen .
27 August – The Beatles visit Elvis Presley at his home in Bel-Air. It is the only time the band and the singer meet.
11 September – The Last Night of The Proms is conducted by Sir Malcolm Sargent, with Josephine Veasey as soloist for the traditional rendition of "Rule, Britannia.
30 September – Donovan appears on Shindig! in the U.S. and plays Buffy Sainte-Marie's "Universal Soldier".
Much mimicked, but much loved too, Thunderbirds like Gerry Anderson's other Supermarionation series (Stingray, Captain Scarlet et al) struck a chord with children as however brilliant the pupeteering it still seemed like toys saving the world. When you are eight you have little reason to think they can't.
Filmed somewhat incongruously in Slough , the series featured the American Tracy family of all-action heroes, led by father Jeff, one of the first men on the moon (as the series was set in 2065 not the best prediction ever). Every boy wanted to be Scott or Virgil; and hoped for a Thunderbird 1 Dinky Toy at Christmas.
The very first episode, for the record, was Trapped in the Sky, written by Gerry Anderson and his then wife Sylvia, who also voiced Lady Penelope. In the show the Hood sabotages a new super-aircraft, forcing the International Rescue team to come to its aid so he can steal their secrets. It was only kids in the ATV Midlands region who got to enjoy that first September 30 broadcast; London only joined the jerky-armed party on Christmas Day that year.
Mock the occasionally-visible strings as we do, the production values on the series were very high, various techies later poached to work on Star Wars for example. And each of the early episodes ran to 50 minutes, effectively a mini-movie.
Do we still love them? Y-y-y-yes M-Mr Tracy.
17 October – The Animals appear for a fourth time on The Ed Sullivan Show.
5 November – The Who release their iconic single "My Generation" in the UK. This song contains the famous line: "I hope I die before I get old"
8 Nov – In the mid- Sixties Britain was becoming more racially diverse. New arrivals to Britain and immigrants long established in the country shamefully often faced discrimination: signs on lodgings stating: "no blacks"; people refused entry to certain pubs and shops because of their race; discourtesies and even assault in public places by those who resented the changing face of the nation. The 1965 Race Relations Act was an attempt by the Labour government, albeit a very weak attempt, to address this situation.
Discrimination, however, was made a civil not a criminal offence, partly because of arguments put forward by the Conservatives that race relations would be soured further were the legislation to be given teeth. And though discrimination "in places of public resort" was outlawed, inexplicably shops and private boarding houses were excluded; so was discrimination in employment, and even local authority policy on renting property. The act, then, was very superficial. There are times when British compromise can be laudable; this was not one of them. The legislation was given greater range in 1968 and 1976.
The 1965 act did, however, set up the Race Relations Board, which came into operation the following year. It initially had very limited scope and powers, its remit monitoring and persuasion; but a seed had been sown.
3 December – The Beatles release their album Rubber Soul, along with the double A-sided single "Day Tripper / We Can Work It Out". George Harrison's performance on the sitar on the track "Norwegian Wood" leads to his becoming a pupil of Ravi Shankar.
The Who release their debut album My Generation.
www.youtube.com/watch?v=qN5zw04WxCc
Not bad for a debut album – presaging punk in songs like My Generation; heavy metal in The Ox; and blending blues and pop in I'm a Man and The Kids Are Alright to create a sound that would stir a million Mods. Throw in a wonderful version of James Brown's classic Please, Please, Please and it was definitely worth a listen. Pop-rock quickly followed some enjoyably energetic detours thanks to The Who. You can almost forgive them for Tommy later in their career.
Originally recorded in mono My Generation has been remixed in Stereo several times, but probably loses more than it gains in the process which seems about as logical as redoing the famous artwork with pictures of the band in later years (though Moon didn't have all that many).
Many critics would consider the album, at one time dismissed by the band as a bit of a rush job, as one of the most seminal in British rock history: Townshend 's raw guitar; Keith Moon's manic drumming; John Entwistle's backseat driving bass; and Roger Daltrey 's chameleon vocals all models for their generation and more besides – The Jam very indebted to their forerunners. After the LP was released every band probably still yearned for the success of the Beatles ; but most wanted to sound like the gods of Shepherd's Bush , The Who.
13 Dec – The original format for Jackanory was elegant in its simplicity: an actor or occasionally a TV personality like Clement Freud or a figure from an entirely different world like Prince Charles reading a book out loud to children, with occasional illustrations shown on screen (often by Quentin Blake ). Magical.
It captivated children from toddlers through to their primary school years, becoming a fixed element of every weekday for millions of families, quarter of an hour of almost guaranteed peace for any adult looking after them: the insistent theme-tune – Jackanory Jackanory – acted like an off-switch for play, a signpost pointing towards bedtime.
Over the years – the original series came to an end in 1996 – some great names appeared as readers: Kenneth Williams perhaps the most frequent; Spike Milligan ; Bernard Cribbins; the genius that was Arthur Lowe ; Michael Hordern and Joyce Grenfell to list but a few of the finest.
The very first programme on December 13 1965 featured Lee Montague, an actor better known for his hard-man roles on TV and in films.
Naturally when the BBC revived the idea in 2006 it had to be tampered with – animation used, and multiple actors; and no fixed slot to give that blessed routine that makes life with children so much easier. Perhaps it takes imagination to believe in the power of imagination.
22 Dec – The day that must be etched on Jeremy Clarkson 's heart.
Just before Christmas 1965 Transport Minister Tom Fraser (not Barbara Castle, as many seem to think) introduced a 70mph limit for drivers on motorways, following several pile-ups in the foggy autumn and winter of that year, though another cause is sometimes cited – the era's super-cars being seen on motorways in legal-speak: "Travelling at speeds in excess of 150mph".
Like Income Tax in 1799 this was to be a temporary measure. In the sixties many car drivers were the first in their family to own a vehicle, so with fewer points of reference as regards driving than is the case today. The engineering on some cars (especially in those days brakes) was not great, with many struggling to reach 70mph. At the time then few voices were raised against the measure.
Barbara Castle confirmed the limit as a permanent fixture when she was transport minister in 1967. The genie was out of the bottle to stay.
As driving experience has become ingrained, cars have radically improved, and road building likewise, voices are now starting to be heard about raising the limit, comparing things with France where the top speed is 130kph (80mph), for example. But the chances of this happening are roughly equivalent to those of proportional representation and free beer for all. Indeed it should be recalled that in a period of energy crisis in 1973 the limit was dropped to 50mph for a time, so the smart money would be on a decrease before any increase.
By way of interest, if you feel the need, the need for speed, try the Isle of Man , where rural roads are still de-restricted. Or Germany where much of the autobahn network has no limit. Or if you fancy going a bit further afield, Nepal is another option, though you might want to watch out for a few of those mountain bends.
The first Ford Transit produced by Ford Motor Company in 1965
BillBoard Hot 100 Number One Hits 1965
www.youtube.com/watch?v=nwIOFjIwF8Y
Events
1 January – Introduction of new "Worboys Committee" road signs.
6 Jan – Geoff Boycott takes 3-47 against South Africa, his best Test bowling.
7 January – Identical twin brothers Ronnie and Reggie Kray, are arrested on suspicion of running a protection racket in London.
14 January – The Prime Ministers of Northern Ireland and the Republic of Ireland meet for the first time in 43 years.
15 January – Sir Winston Churchill is reported to be seriously ill after suffering a stroke.
24 January – Sir Winston Churchill dies aged 90 at Chartwell, his Kent home of more than 40 years.
30 January – Thousands attend Winston Churchill's state funeral in London. During the three days of lying-in-state, 321,000 people file past the catafalque, and the funeral procession travels from Westminster Hall to the service at St Paul's Cathedral, attended by the Queen, Prime Minister Harold Wilson, and representatives of 112 countries.
31 January – National Health prescription charges end.
1 February – The Queen and the Duke of Edinburgh arrive in Ethiopia on a state visit.
4 February – Confederation of British Industry founded.
6 February – Sir Stanley Matthews plays his final First Division game, at the record age of 50 years and 5 days.
16 February – The British Railways Board (chairman: Richard Beeching) publishes The Development of the Major Trunk Routes proposing which lines should receive investment (and, by implication, which should not).
18 February – The Gambia becomes independent from the United Kingdom.
3 March – The remains of Roger Casement, from Pentonville Prison, are reburied in Dublin.
10 March – Goldie, a London Zoo golden eagle, is recaptured after 13 days of freedom.
19 March – A record price of 760,000 guineas is paid at Christie's for Rembrandt's Titus
23 March – Dr Dorothy Hodgkin is awarded the Order of Merit.
1 April – The Greater London Council comes into its powers, replacing the London County Council and greatly expanding the metropolitan area of the city.
Finance Act introduces corporation tax, replacing income tax for corporate institutions.
6 April – Government publicly announces cancellation of the BAC TSR-2 nuclear bomber aircraft project.
23 April – Red velvet minidress.
26 April – Manchester United win the Football League First Division title.
1 May – Liverpool win the FA Cup for the first time in their history, beating Leeds United 2-1 at Wembley Stadium. Roger Hunt and Ian St John score for Liverpool, while Billy Bremner scores the consolation goal for Leeds.
7 May – The Rhodesian Front under Prime Minister Ian Smith win a landslide election victory in Rhodesia.
11 May – The National Trust officially launches its long-term Enterprise Neptune project to acquire or put under covenant a substantial part of the Welsh, English and Northern Irish coastline. Whiteford Burrows on the Gower Peninsula is considered the first property to be acquired under the campaign although its purchase was announced on 1 January.
13 May – The Conservatives make big gains in the UK local government elections.
17 May – An underground explosion at Cambrian Colliery in Clydach Vale kills 31.
18 May – The Queen and the Duke of Edinburgh begin a 10-day state visit to the Federal German Republic.
19 May – West Ham United become the second British club to win a European trophy, defeating West German 1860 Munich 2-0 at Wembley Stadium.
3 June – The bank rate is reduced to 6 per cent.
18 June – The government announces plans for the introduction of a blood alcohol limit for drivers in its clampdown on drink-driving.
22 June – The 700th anniversary of Parliament is celebrated.
8 July – Great Train Robber Ronald Biggs escapes from Wandsworth Prison.
12 July – The Secretary of State for Education and Science, Tony Crosland, issues Circular 10/65 requesting local authorities to convert their schools to the Comprehensive system.
22 July – Sir Alec Douglas-Home suddenly resigns as a head of the British Conservative Party.
24 July – Freddie Mills, former British boxing champion, is found shot in his car in Soho.
27 July – Edward Heath becomes leader of the British Conservative Party following its first leadership election by secret ballot.
29 July – The Beatles film Help! debuts in London.
August – Elizabeth Lane appointed as the first female High Court judge, assigned to the Family Division.
1 August – Cigarette advertising is banned on British television.
Radio and television licence fees are increased.
3 August – Release of the film Darling starring Julie Christie.
"The Queen's Award to Industry" for export and technological advancements is created.
6 August – Peter Watkins' The War Game, a television drama-documentary depicting the aftermath of a nuclear attack on the UK, is pulled from its planned transmission as BBC1's The Wednesday Play for political reasons. It will go on to win the 1966 Academy Award for Best Documentary Feature.
The first female High Court judge is appointed.
21 August – Charlton Athletic F.C. player Keith Peacock becomes the first substitute to appear in a Football League match.
2 September – Sir Harry Hylton-Foster, Speaker of the House of Commons, dies.
21 September – British Petroleum strikes oil in the North Sea.
24 September – The British governor of Aden cancels the Aden constitution and takes direct control of the protectorate, due to the bad security situation.
30 September – First episode of ATV 'Supermarionation' series Thunderbirds airs.
7 October – Ian Brady, a 27-year-old stock clerk from Hyde in Cheshire, is charged with the murder of 17-year-old apprentice electrician Edward Evans to death at a house on the Hattersley housing estate last night.
8 October – The Post Office Tower opens in London.
16 October – Police find a girl's body on Saddleworth Moor near Oldham in Lancashire. The body is quickly identified as that of Lesley Ann Downey, who disappeared on Boxing Day last year from a fairground in the Ancoats area of Manchester, at the age of 10. Ian Brady, arrested last week for the murder of a 17-year-old man in nearby Hattersley, is suspected of murdering Lesley, as is his 23-year-old girlfriend Myra Hindley, who on 11 October was also charged with the murder of Edward Evans. Police suspect that other missing people from the Manchester area, including 12-year-old John Kilbride (who was last seen alive nearly three years ago) could be also be buried there; some reports state that as many as 11 murder victims may have been buried in the area.
20 October – It is reported that suspected mass murderer Ian Brady tortured his victims and tape-recorded the attacks on them. Detectives in Brady's native Scotland are also reportedly investigating the disappearance of 12-year-old Moira Anderson in Lanarkshire eight years ago as a possible link to Brady.
21 October – Ian Brady and Myra Hindley are charged with the murder of Lesley Ann Downey and remanded in custody.
22 October – African countries demand that the United Kingdom use force to prevent Rhodesia from declaring unilateral independence.
24 October – Prime Minister Harold Wilson and Arthur Bottomley travel to Rhodesia for negotiations.
Police find the decomposed body of a boy on Saddleworth Moor. The body is identified as that of John Kilbride, a 12-year-old boy who disappeared from Ashton-Under-Lyne in November 1963.
29 October – Ian Brady and Myra Hindley appear in court, charged with the murders of Edward Evans (17), Lesley Ann Downey (10) and John Kilbride (12).
October – Corgi Toys introduce the all-time best selling model car, James Bond's Aston Martin DB5 from the film Goldfinger.
1 November – Three cooling towers at the uncompleted Ferrybridge C electricity generating station in West Yorkshire collapse in high winds.
5 November – Martial law is announced in Rhodesia. The UN General Assembly accepts British intent to use force against Rhodesia if necessary by a vote of 82-9.
8 November – The British Indian Ocean Territory is created, consisting of Chagos Archipelago, Aldabra, Farquhar and Des Roches islands (on 23 June 1976 Aldabra, Farquhar and Des Roches are returned to Seychelles).
The Murder (Abolition of Death Penalty) Act suspends capital punishment for murder in England, Scotland and Wales, for five years in the first instance, replacing it with a mandatory sentence of life imprisonment.
The Race Relations Act outlaws public racial discrimination.
11 November – In Rhodesia (modern-day Zimbabwe), the white minority regime of Ian Smith unilaterally declares independence.
13 November – The word "fuck" is spoken for the first time on British television by the theatre critic Kenneth Tynan.
20 November – The UN Security Council recommends that all states stop trading with Rhodesia.
29 November – Mary Whitehouse founds the National Viewers' and Listeners' Association.
December – EMI release Jacqueline du Pré's recording of Elgar's Cello Concerto with John Barbirolli and the London Symphony Orchestra.
National Coal Board closes the last deep coal mine in the Forest of Dean (Northern United at Cinderford).
3 December – The first British aid flight arrives in Lusaka; Zambia had asked for British help against Rhodesia.
12 December – The Beatles' last live U.K. tour concludes with two performances at the Capitol, Cardiff.
15 December – Tanzania and Guinea sever diplomatic relations with the United Kingdom.
17 December – The British government begins an oil embargo against Rhodesia; the United States joins the effort.
22 December – A 70 mph speed limit is imposed on British roads.
A reorganisation of the cabinet sees Roy Jenkins appointed Home Secretary and Barbara Castle as Minister of Transport.
24 December – A meteorite shower falls on Barwell, Leicestershire.
27 December – The British oil platform Sea Gem collapses in the North Sea, killing 13 of the 32 men on it.
30 December – President Kenneth Kaunda of Zambia announces that Zambia and the United Kingdom have agreed to a deadline before which the Rhodesian white government should be ousted.
U.S. Events
Rev. Dr. Martin Luther King, Jr., and more than 2,600 others arrested in Selma, Ala., during demonstrations against voter-registration rules (Feb. 1). Background: Civil Rights.
Malcolm X, black-nationalist leader, shot to death at Harlem rally (Feb. 21).
Blacks riot for six days in Watts section of Los Angeles: 34 dead, over 1,000 injured, nearly 4,000 arrested (Aug. 11-16).
1965: US orders 50,000 troops to Vietnam
President Johnson has commited a further 50,000 US troops to the conflict in Vietnam.
Monthly draft calls will increase from 17,000 to 35,000 – the highest level since the Korean War, when between 50,000 and 80,000 men were called up each month.
It will take the US force in Vietnam up to 125,000 but officials say at this stage demands should be met by conscription, without calling upon the reserves.
Muhammad Ali defeated Sonny Liston.
During the Gemini 4 mission on June 3, 1965, Ed White became the first American to conduct a spacewalk.
1965 Swedish engineer Sten Gustav Thulin was issued U.S. patent No. 3,180,557 (assigned to Celloplast company) for the modern disposable plastic grocery bag.
1965 Astronaut John Young smuggled a corned beef sandwich aboard the first Gemini spacecraft flight.
1965 'A Charlie Brown Christmas' premiered on CBS TV.
1965 Cool Whip, a whipped cream substitute, was introduced by General Foods. Within 3 months it is the top selling whipped topping product.
1965 Ellen Church died on Aug 22 (born Sept 22, 1904). The first airline stewardess.
1965 Canada adopted its new red & white flag with a red maple leaf in the center.
1965 The first Subway sandwich shop opens in Bridgeport, Connecticut.
1965 'Pepper' Martin, baseball player died.
1965 Discovered that addition of vitamins C and E reduced levels of nitrosamines in fried bacon and nitrite-cured products; industry changed processing to minimize consumer exposure to cancer-causing nitrosamines.
1965 The entire cast of the comic strip 'Peanuts' was featured on the cover of TIME magazine.
1965 R. C. Duncan was granted a patent for 'Pampers' disposable diapers.
1965 Campbell Soup Company introduces Franco-American Spaghetti-O's.
1965 Jimmy Chamberlain of the music group 'The Smashing Pumpkins' was born.
1965 The Rolling Stones recorded the frustrated diners lament, "(I Can't Get No) Satisfaction."
1965 Norwood Fisher of the music group 'Fishbone' was born.
1965 Green Acres TV show debuted.
1965 Paul Hermann Muller died. A Swiss chemist who discovered that DDT was a potent insecticide. It was the most widely used insecticide for more than 20 years, and helped to increase food production around the world. Due mainly to its accumulation in animals that eat insects, and its toxic effects on them and those further up the food chain, it has been banned in the U.S. since 1972. However its residue is still found in some foods grown in the U.S. in 2005.
1965 The Pillsbury Doughboy, 'Poppin' Fresh,' was born. He made his debut in a commercial for crescent rolls.
1965 At 5:15 pm on November 9, a 13 hour blackout of the northeastern U.S. and parts of Canada began when the electric grid failed.
1965 British author, W. Somerset Maugham died. Among the titles of his novels and short stories are: 'Cakes and Ale', 'The Alien Corn' and 'The Breadwinner.'
1965 'Taste Of Honey' by Herb Alpert & Tijuana Brass hit #1 on the charts.
Almost 50 years ago, a small team at the Italian company Olivetti managed to do what no one had done before them; they created a computer small enough to fit on a desk, and could be used by regular people. It was the Programma 101, what many consider to be the world's first personal computer.
To understand just how revolutionary the Programma 101 was when it was unveiled back in 1965, you first have to know what computers looked like at the time. Remember, this was almost 50 years ago. It was the era of huge mainframes, big as fridges, sometimes filling up entire rooms. Only a small elite had access to them.
1965 in British television
2 January – World of Sport premieres on ITV with Eamonn Andrews as its first presenter.
January – The BBC collaborates with Ireland's RTÉ on an historic television broadcast as Irish Taoiseach Seán Lemass and Prime Minister of Northern Ireland Terence O'Neill meet for the first time in Belfast.
30 May – A televised tribute to the late British bandleader and impresario Jack Hylton called The Stars Shine for Jack is held in London at the Theatre Royal, Drury Lane.
1 August – Cigarette adverts are banned from UK television. Pipe tobacco and cigar adverts continue until 1991.
6 August – The War Game, a drama-documentary by director Peter Watkins depicting the events of a fictional nuclear attack on the United Kingdom, is controversially pulled from its planned transmission in BBC1's The Wednesday Play anthology strand. The BBC was pressured into this move by the British government, which did not want much of the play's content to become public. It was eventually released to cinemas, and won the 1966 Academy Award for Documentary Feature. The BBC finally screened the play in 1985.
4 October – United! premieres on BBC1.
4 October – The BBC announces plans to introduce a new service for Asian immigrants starting the following week.
13 November – The word "fuck" is spoken for the first time on British television by the theatre critic Kenneth Tynan.
BBC 1
9 January – Not Only… But Also (1965–1970)
31 March – Going for a Song (1965–1977)
13 April – The Bed-Sit Girl (1965–1966)
7 July – Tomorrow's World (1965–2003)
22 July – Till Death Us Do Part (1965–1975)
2 October – BBC-3 (1965–1966)
4 October – United! (1965–1967)
18 October – The Magic Roundabout (1965–1977)
19 October – The Newcomers (1965–1969)
13 December – Jackanory (1965–1996, 2006–present)
BBC2
24 March – The Airbase (1965)
17 October – Call My Bluff (1965–1988, 1994, 1996–2005)
ITV
2 January – World of Sport (1965–1985)
23 January – Public Eye (1965–1975)
30 September – Thunderbirds (1965–1966)
Posted by brizzle born and bred on 2015-05-02 13:23:53
Tagged: , That Was the Year That Was – 1965 , Winston-Churchill , 11-plus exam , Stanley-Matthews