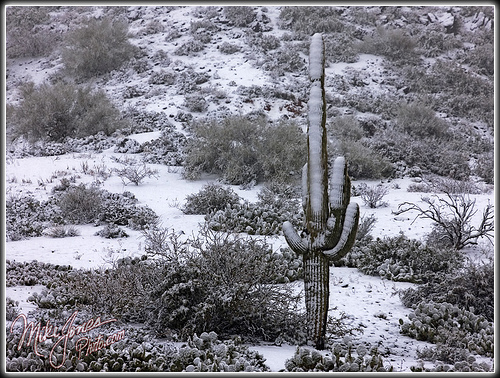 Yesterday was an interesting day down in the desert. About 4 or 5 times every winter there is a dusting of snow up in the mountains around Phoenix, but I have never seen snow actually in Phoenix. That happened yesterday.
This is the first time I have ever seen saguaros with snow on them. I was up around Cave Creek and Bartlett Lake, which unfortunately had about the least amount of snow in the entire valley. I should have stayed around the Superstition Mountains in the east which got a ton of snow. Oh well…
Practically every part of the valley had some snow, hail, or gropple. Whatever the hell gropple is. I never heard the word until yesterday. In fact, my spell check is underlining it, so I guess my computer hasn't heard of it either. But. All the newscasters kept using the word gropple yesterday.
Posted by MikeJonesPhoto on 2013-02-22 05:56:18
Tagged: , 2-13 , 4798 , www.mikejonesphoto.com , Smith-Southwestern , Mike Jones photo , landscape , scenic , nature , professional , photographer , Arizona , AZ , ns , desert , snow