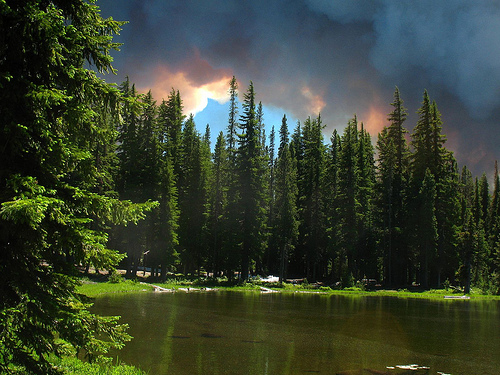 UPDATE 7/21/08: I am moving this one forward to let you know that the fire is getting well contained, they are doing fill burns to clean up the fuel inside the perimeter…
I guess there is still a little spot fire now up about a mile south of Bird Lake.. but I have faith that all these copters and awesome firefighters will handle it.. I hope!
There are other fires popping up all over the place… a 5-10 acre fire at the low end of the Big lava bed last night near Willard…. a huge convoy of fire trucks and crews were heading back from that last night around 11pm or so, making an eerie light brigade thru the forest throwing up dust that made moon rays coming thru the trees..
a tiny fire up near Tahklak lake they now call Sheep fire is being attacked by copters and crew very quickly… we are lucky that this huge crew is here already, able to jump on these quicker than would otherwise happen.
yikes! and the Smokey firesign still says FIRE DANGER: moderate!
I am still in TL, can't upload photos yet…
wanted to give you an update!
~ Darlisa
Taken from Mirror Lake just north of Trout Lake, Washington on the 82 road, a few miles north of where it was later barricaded on July 13th in the morning
my night shot was on the channel 2 news!
www.katu.com/news/25490264.html
this website was set up for this fire
www.inciweb.org/incident/1428/#sum
There is a wonderful huge crew now working on the fire, they are amazing.
Many other photographers have posted wonderful photos on this fire as well, for example:
my niece: www.katu.com/younews/25238089.html?img=1&mg=t
Carolyn: www.flickr.com/photos/luckyplanet/2675456098/in/photostream/
www.flickr.com/photos/oregonlahar/sets/72157606174061286/
Thank you all for your wonderful insightful and inspiring comments on the nighttime fire shot… I enjoyed them all so much! My computer is acting up, and I have little time now..bear with me! Come see the growing slide show of this fire at
www.flickr.com/photos/starlisa/sets/72157606175765673/show/
I will be posting a whole set of this fire starting at about 11:00 am Sunday July 13, 2008…
On July 13, 2008, this fire started in the morning as a small blaze with a spindly column that may have been smoldering since the lightning strikes in the area 8 days earlier. When I started observing the fire around 11 am, it was small… within 20 minutes I saw helicopters and tankers with retardant attack the small blaze. WHile they were returning to Troutdale to restock on retardant, the fire sprang to life wiith the growing winds and trees to the SE and to the west began to blaze up as the fire jumped from crown to crown. This area along the tree line of Mt. Adams is choked with dead trees that have not seen a fire in many years… and many standing dead trees from a heavy infestation of Spruce Bud Worm and Bark Beetles. There has been great debate for years about cleaning up this area, but many who fought to keep it natural. Naturally, in history, the area was occasionally swept by fire which renewed the grazing for elk and other critters, and encouraged the growth of the huckleberries.
Fire, the great destroyer and the great purifier all at the same time… a primeval force that is overwhelming if you are downwind… yet so awe-inspiring. How can something so destructive be so beautiful??? Destruction and Purification all in one… Nature balancing itself.
Posted by Starlisa on 2008-07-21 20:06:43
Tagged: , Cold Springs Fire , Starlisa , FIRE , Mt. Adams , Trout Lake , wildfire , hot and fast , sounded like a freight train nearby! , over 8000 acres burning , forestfire , yes I was camping up there , Mt. Adams Fire , Gotchen Creek Drainage , June13_2008 , June13 , 2008 , Bird Creek , Bird Creek Meadows , Mt. Adams Wilderness , Yakama reservation , TractD , Washington State , Washington , State , Cascade Mountain Range , Cascades , Southern Washington Cascades , mountains , subalpine , high altitude , Yakima County , Klickitat County , landscape , view , volcano , mountain , purification , lightning