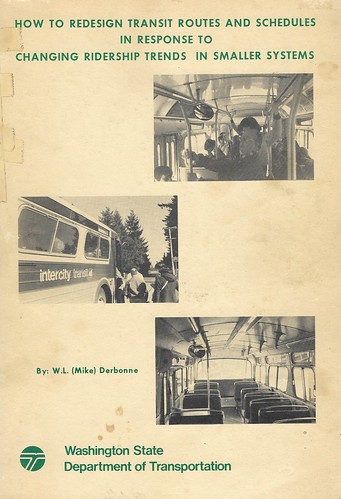 The survey that they were doing, the program I wrote to tabulate the survey, suggestions from a transit consultant in Olympia.
Our professor in a geography class linked us up with this project. I just had one part in it.
After the whole report was done, I heard, through the grapevine, that the transit manager didn't pay much attention to it. He was used to running the system old school, like maybe saying this.
Why do we need consultants from the state and all that computer stuff, when I can just find out which bus stops are most used by just asking the drivers at an employee meeting.
The project probably did collect some dust, but I still have a copy. It's a bit yellowed.
Many years later, Bellingham Transit was reorganized and absorbed into the current WTA Transit system.
Posted by theslowlane on 2019-01-09 05:28:45
Tagged: , articles-i-am-in , text , 1978