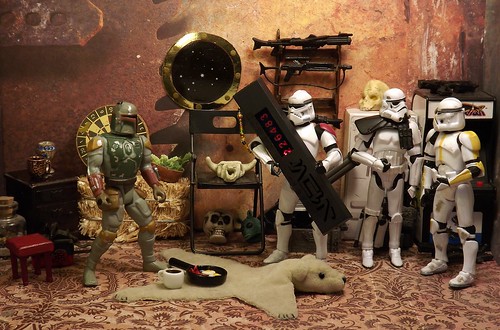 Stormtrooper Bruce and Boba Fett have been playing pranks on each other for so long they can no longer keep up with who's turn it is for pay back. But STB is pretty sure it's his turn to make Fett pay for using experimental Kragle on his suit. The guys found what turned out to be a harmless, broken toy with lights that still work. And STB knows the best way to mess with Fett is not to mess with him at all.
STB: Dude, top of the morning to you. Sorry to intrude on your breakfast but I come bearing another gift, a peace offering if you will. Our pranks have got to stop at some point.
Fett: Well, now. Haven't we done this before with that fake plant that collects dust?
STB: Here me out first.
Fett: No way. I see blinking lights. And blinking lights are not good.
STB: Just here me out.
Fett: And it has numbers, too. What are those numbers for? Is this your take on a Moron Meter?
STB: No, just here me out.
Fett: Do they count backward? Will it explode? Does it spew smoke? Does it detect when my enemies are near?
STB: Just hear me out.
Fett: Is it waterproof, or fireproof? Will it stun me when it reaches a certain number?
STB: Dude, just…
Fett: Oh, wait? Is it one of those antique radios and those numbers are the dial? And all I'll hear is bazaar sonar beeps that'll make my ears bleed?
STB: You know what? I'll just leave this here and let you figure it out.
_____________________________________________
Viewing Large is always fun. Just click on the image.
***Had planned to post this later but since it was already "good to go" and due to ongoing computer problems plans changed. 🙂
Posted by ChicaD58 on 2019-08-09 04:14:53
Tagged: , DSCF8621a , Posted 08-09-19 , action figure , stormtrooper , table , goblet , chainsaw , clonetrooper , Boba Fett , Stormtrooper Bruce , STB , TK-1110 , TK-432 , Fett's quarters , rusted out cargo hold , bear rug , gun rack , weapons , lockers , trunk , arcade game , chair , dart board , artificial cactus , hay , endtable , breakfast , trophy heads , prank , harmles broken toy , Explored 08-09-19 but removed when the cleaned things up