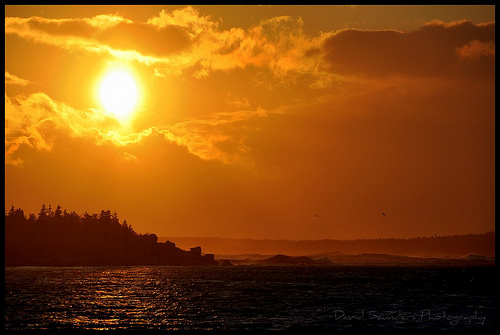 Explored – Feb. 20, 2009 – Thank you all so very much!
What:
Sunset over the Atlantic Ocean
Where:
Lower Prospect
Nova Scotia, Canada
About:
This is SOOC, believe it or not! I was taking some shots of the waves as they were much larger than normal today because of the storm we had yesterday. I got down to the end of the road in Lower Prospect. I was in bracket mode and shooting just jpeg's by mistake here. The sky was very orange and the sun was filtering through all the mist from the waves. I think the extra color if from the refracted light? Anyway this is the -2ev shot from the 3 bracketed shoots. I loved the way it came out. BTW, you guys are always making fun of the seagulls in all my shots but I didn't see them in the shot until I viewed it on the computer. A very lucky bonus!
PP info:
None! Just resized, border & watermark online in Flickr's Picnik! (standard web crap)
View Large
————————————————————————————————
Nikon D90 : Nikkor 18-200mmVR @ 135mm : 1/4000s @ f/8 : ISO 200
————————————————————————————————
Posted by Dave the Haligonian on 2009-02-21 04:47:39
Tagged: , SOOC Sunset , DSC6247.jpg , Lower Prospect , Nova Scotia , Canada , sunset , Atlantic , maritime , coast , water , clouds , sky , sun , seagull , bird , sea , ocean , SOOC