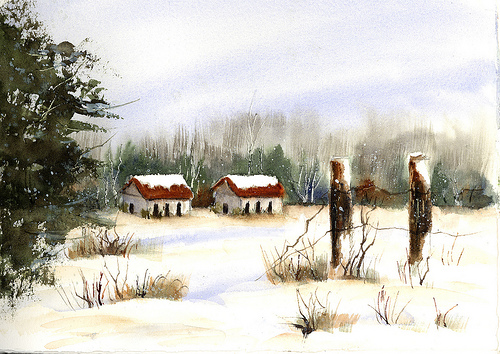 Daily Practice
Journal
No — no snow — yet. But falling temperatures, rain, and winter settling in. In fact, we may get a dusting this weekend.
This scene is from a photo I took last summer of out buildings on a farm near my home. The photo shows goldenrod along the fence posts, bright green grass and tawny fields. I used my imagination to change the 'season' of this photo and tried to imagine what it would look like in the coldest part of winter covered in snow.
It amazes me how powerful colors are — looking at this in the glow of bright office light (versus more subdued lighting at my friend's), the greens and purply blues really make this feel COLD! I painted another snow scene this weekend using different colors – and mercy, it was so much warmer.
I suppose I've known this aspect of color and have used it in my paintings before. But it seems snow scenes especially, perhaps with their white starkness, really brought that home to me.
Thank you for your kind comments about both my recent paintings and my computer. You have no idea how much they've cheered me during a most frustrating time! More bad news, however on the IT front. The computer keeps crashing – despite all attempts at resuscitation. One more attempt at salvation tonight .. and if that fails .. it's computer shopping and draining my bank account. SIGH. As Sue has so expertly said earlier, the computer is definitely my workhorse and my 'connecton' to family and friends I love and admire, inspiration and learning, and yes, work. So at least I have a day or so to 'bite the bullet' and wrap my mind around the possibility.
It's a busy week here at the office — meetings and classes and planting seeds in a wonderfully warm greenhouse. Some of the plants from last semester's propagation class are really taking hold, and I saw a beautiful purple iris in bloom …. what a cheer!
Take care today!
Posted by linfrye . on 2010-01-26 11:22:16
Tagged: , watercolor , winter , snow , imagination , oxford , nc , granville county , rural buildings , sketchbook , journal