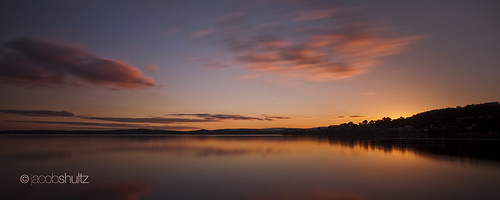 [
Website
] [
Blog
] [
Flickr
] [
Facebook
] [
Twitter
] [
Tumblr
]
Desktop Background!
If you like this photo, I have created a desktop background for you to use on a range of devices, including iPhone, iPad and desktop computer. You can get it here 🙂
The "For Sale" Miniseries
"Dynamic Calm" is the ninth photo in a miniseries that I recently started. Over the next few weeks, I'll be covering all of my photographs available as prints on my website. I'll be uploading one every weekday (except Friday), as usual, but you'll find a lot more information on the photographs themselves – I might sneak in a few tutorials, quick tips, etc. It'll be great for new and old photographers alike – If you have any friends who might be interested, be sure to let them know! I'll be updating everything on my blog as well as my other social networks, so if you would prefer to follow it there, just click on one of the links above. 🙂
About "Dynamic Calm"
"Dynamic Calm" was taken from the Warners Bay foreshore. Warners Bay is a suburb of the City of Lake Macquarie in New South Wales, Australia, and is located 15 kilometres from Newcastle's central business district on the eastern side of Lake Macquarie. It was named after Jonathan Warner, who settled the area. The population of Warners Bay was 7,009 as at the 2006 census, with in excess of 615 businesses operating in the area.
Taking "Dynamic Calm"
Nikon D90 | Sigma 10-20mm
1 min 43 sec | f/13 | ISO100 | 11.5mm
Like Thursday's upload, I took this shot after attempting a sunset at Dudley Beach (unfortunately the location didn't quite work out). I saw that the clouds were starting to turn, so I quickly drove back to the Warners Bay Foreshore. Unfortunately most of the colour in the clouds had dissipated by the time I arrived, but nevertheless I hurriedly set up the tripod and composed this shot. Originally I went for a fairly standard shot (in terms of shutter speed), but I felt the slight ripples in the water were too distracting. So I grabbed the trusty ND filter, popped it on the end of my Sigma 10-20mm lens, and exposed for just over a minute and a half to get this shot.
Processing "Dynamic Calm"
Not much was wrong with this image. The left hand side was a little dark, so I used Adobe Camera Raw's graduated effect filter sideways (horizontally?), to lighten up that portion of the photo. I cooled the image down slightly, but then decided to apply a warming filter in Photoshop (Photoshop's warming filter produces a different effect compared to simply increasing the white balance temperature in Adobe Camera Raw). I had to clone out a few dust bunnies in the corners, and also one stray stick in the foreground which I was finding distracting. What are your thoughts on small cloning fixes like that? Leave a comment! 🙂
Enjoy!
Posted by J.Shultz Photography on 2011-09-05 02:50:05
Tagged: , warners , bay , warners bay , foreshore , lake , river , dam , waterscape , scape , landscape , land , mountain , tree , hill , silhouette , reflection , horizon , clouds , sun , set , sunset , long , exposure , long exposure , slow , shutter , slow shutter , newcastle , macquarie , lake macquarie , warners bay foreshore , still , calm , smooth , aus , australia , new , south , wales , new south wales , nsw