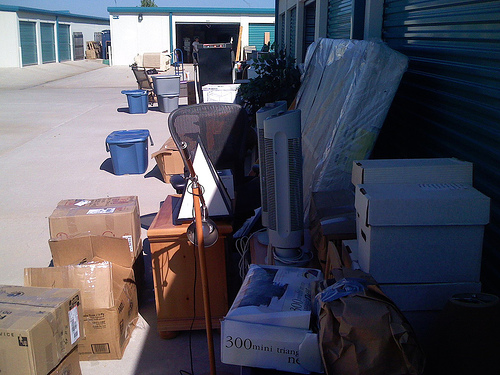 Having to clean out the storage unit in Oklahoma where many things such as furniture, appliances, an electronics have been gathering dust for about three years now. Getting rid of the stuff no longer wanted and repacking the stuff to keep and making sure it's still in good condition. This probably isn't even 1/4 of the total stuff. Have already packed up another storage unit full of things that are going to be kept. If one more spec of dust flies in my face or another horde of spiders comes racing towards me, I may just end up abandoning the site. lol.
One more day of this and the kid is going to turn on me.
—————————–
Status updates on items I am trying to sell off;
People currently Interested in Sold Items
Big Green Couch and Love seat: Sold
Treadmill: Sold
Washer and Dryer: Sold
Dining Room Table and Chairs for 6: Sold
Large Striped Couch with Ottoman and Hideaway Bed: Sold
Magna Outreach Bicycle: Sold
Still Want to See Go Bye:
Very Large HDTV Television:
Large HDTV Ready Television
Surround Sound System
Working Apple Titanium Laptop, good condition, MAC OSX loaded.
Two Sets of TULA Scuba Gear (snorkle, mask, fins, boots, travel bag)
SCSI Scanner and Old Mac Software: Take it for free, please.
SCSI 8x Record Speed DVD Burner: Take it free, please.
DVD Player
Various backpacks and bags for computer gear.
4 sets of not so awesome looking fake trees.
2 (so far) VCR Tape Recorders.
Several Television Sets of Various Sizes.
Several sizes of Computer Monitors. (not flat screen)
Hewlett Packard PC (not currently working)
21" Philips Computer Monitor, excellent Condition
Other Items
Volumes and Volumes of PhotoDisk Stock Books:Trashed.
Herman Miller Aeron Chair: Still badass and still mine. 🙂
Old boxes of comic books wrapped and stored in containers: Prob worth something now.
Golf Clubs: recovered and taking back to NYC.
All photo albums ensuring I did have a past: Found.
* list to be updated as items are sold and new items found in back of original storage shed and moved out to new one.
Posted by absolutwade on 2007-09-02 05:52:23
Tagged: , absolutwade , September , 2007 , iphone , storage , Oklahoma City , Oklahoma , must sell