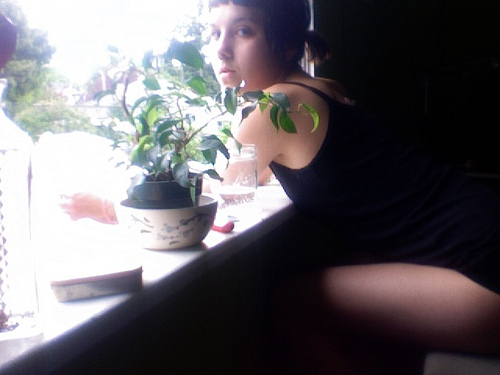 i realize i take a lot of photographs at my windowsill but i spend a lot of time sitting here, looking out the window, using the sill as a table for my computer, or for a place to write. it's perfect when sitting at my ottoman.
i've added notes to the photo so you know what is almost always sitting on my windowsill.
sometimes i feel captured in the small moments.
the light of a cigarette.
the dusting of a plant.
falling leaves.
falling dreams.
then i am snapped back, into a place of reality and despair.
so you guys know, tomorrow is photograph your day day. i did it two years ago and the photos from that day are a set on here. maybe you should do it too. just spend a day documenting your day in photographs!
i didn't do it last year, i was in portland having a mental breakdown. it was terrible and beautiful at the same time. i'm glad it's not documented though.
day two hundred and seventy eight.
Posted by knotted_thread on 2010-05-18 00:50:28
Tagged: , 365days , selfportrait , window , windowsill , ficus , smallitems , manitobahouse , bedroom , macbook , photobooth