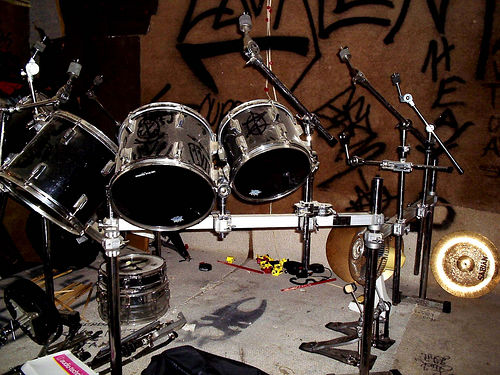 My husband took this photo and I rather like it. He was taking apart the entire drumrack which is something they NEVER do. They normally move the drums from gig to gig while they are still semi assembled. No one even remembers the last time this drum kit was completely disassembled, so he wanted to make a record of exactly how they had it together.
They have given up the lease for their jam room and these drums are now stowed safely away in the corner of my computer room. Don't let the dust fool you. This is one of the most beautiful drumsets you'll ever see when it's fully together and clean.
PS… please don't tell Vine that his drumkit is completely disassembled unless you want to see a grown man cry.
Posted by Special on 2004-10-10 10:13:58
Tagged: , pearl , drums , drumrack , dusty , sabian , jamroom