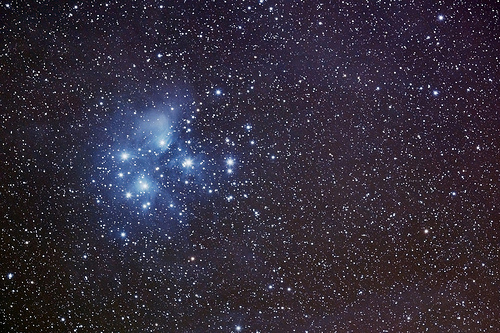 Las Pléyades (que significa «palomas» en griego), también conocidas como Objeto Messier 45, Messier 45, M45, Las Siete Hermanas o Cabrillas, Los Siete Cabritos, es un objeto visible a simple vista en el cielo nocturno con un prominente lugar en la mitología antigua, situado a un costado de la constelación Tauro. Las Pléyades son un grupo de estrellas muy jóvenes las cuales se sitúan a una distancia aproximada de 450 años luz de la Tierra y están contenidas en un espacio de treinta años luz. Se formaron hace apenas unos 100 millones de años aproximadamente, durante la era Mesozoica en la Tierra, a partir del colapso de una nube de gas interestelar. Las estrellas más grandes y brillantes del cúmulo son de color blanco-azulado y cerca de cinco veces más grandes que el Sol.
es.wikipedia.org/wiki/Pl%C3%A9yades_%28astronom%C3%ADa%29
In astronomy, the Pleiades (/ˈplaɪ.ədiːz/ or /ˈpliː.ədiːz/), or Seven Sisters (Messier object 45 or M45), is an open star cluster containing middle-aged hot B-type stars located in the constellation of Taurus. It is among the nearest star clusters to Earth and is the cluster most obvious to the naked eye in the night sky. The celestial entity has several meanings in different cultures and traditions.
The cluster is dominated by hot blue and extremely luminous stars that have formed within the last 100 million years. Dust that forms a faint reflection nebulosity around the brightest stars was thought at first to be left over from the formation of the cluster (hence the alternate name Maia Nebula after the star Maia), but is now known to be an unrelated dust cloud in the interstellar medium, through which the stars are currently passing. Computer simulations have shown that the Pleiades was probably formed from a compact configuration that resembled the Orion Nebula.[7] Astronomers estimate that the cluster will survive for about another 250 million years, after which it will disperse due to gravitational interactions with its galactic neighborhood.[8]
en.wikipedia.org/wiki/Pleiades
Posted by Sebapol on 2013-12-02 02:58:08
Tagged: , pléyades , pleyades , pleiades , M45 , messier 45 , cabritos , hermanas , cabrillas , mitología , griega , taurus , estrella , star , espacio , space , galaxia , galactic , Astrotrac