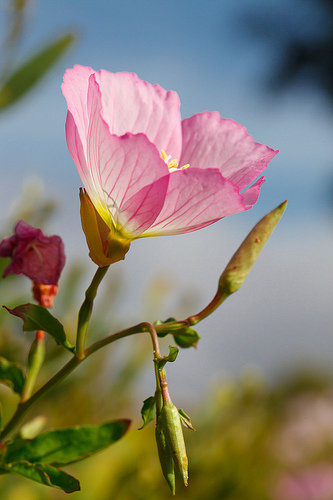 I had made lots of plans for today … Had spotted this patch along the road to church which was tightly filled with velvetty-pink flowers, it almost looked like a carpet. And there was this thicket of bush on the road to office, which I had been noticing that had pinkish white flowers with pink veins popping out. These were so awesome in the morning light that I was getting distracted on my biking to office. And this on a road with narrow lanes and no bike path ;). So today I decided to get over with my infatuation with these seductive beauties. Packed my 100mm macro and 50mm and jumped on the bike first thing in the morning. Left my tripod behind which on retrospective may not be a smartest thing.
Once I got out of the elevator the cold wind chimmed in… it had been 70+ for the past few days so I hadn't put on anything other than a thin cotton tee. Not to mention the sky has lot of clouds. Fate is not on my side. But I decided to go anyway. It's not like I had so many things to do on a saturday morning. My bike computer told me that we are in 50s this morning. Not a very comforting information.
First stop is the road to church. Sun has been popping in and out. But I was greeted with disappointment there. The flowers are closed. May be the cold, or may be it was just too shy. Heart broken, I decided to take the road to office. I had been praying for those flowers to stay open all week, so that I can go over on the weekend and shoot. And it looks like all those positive energy that I imparted has worked. They are still there. Sun is still in a playful mood with the clouds. Cut it out will ya ?
I decided to wait out for the brief moments of sunlight (time was on my side). I also gathered it's better not to shoot from the road which is the west side from where I could have got perfect backliting, because of safety (I get lost in composition… and I wasn't looking forward to end up as a roadkill). The shot from side walk to the east side still had some backlit (more like side lit if you shot from the side of the flowers).
The bushes are barely a feet off the ground, making a straight forward composition hard. My intention was to shoot the single flower with the sky as the background and the two blurry patches on either side on the top sort of framing the corners. And for what I was looking for, there was only one way to get it, So I had to lie on my back on the sidewalk, pretty much a butterfly crunch pose since I had nothing to lean to, hold my breath wait for the winds to die down, keep a steady focus on the veins of the petals and shot when the sunlight peeked out. Took nine shots (just to be sure) before calling it off. That also took care of my abs workout for the day.
Had a few joggers and bikers pass by, and I pretend to be Oblivious to all that, till a jogger stoped for a chat. He was from Indiana, visiting his mom. So we talked about running, another passion I shared and asked him to explore the coyotee creek trail right across the road which has also been my training arena.
Looking at the historgram gave me the realization that I would have to do some touching on the image. The dyamic contrast was so vivid it was all over. And the sky has been too bright undermining the effect of backliting on the petals. So I reduced the blue luminance on PP and and also slightly adjusted white balance, while still respecting the power of the golden morning light.
I also accrued the not so comforting knowledge that my leather camera strap can attach heaps of pollen dust. Not good. Had to wipe it off with a moist tissue once I reached home. So if I end up with a yellow dot on my next shot, I guess I know where it came from … lol
Shot using 100mm macro.
Posted by Joe Dsilva on 2011-05-08 02:26:17
Tagged: , backlight flowers , backlit flowers , flower portraits , flowers , milpitas , road side flower , pink , flower , pink flower , san jose , Wonderful world of flowers