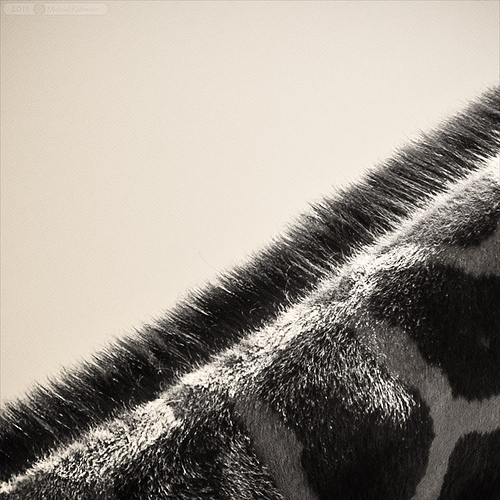 Another one with the dusted-off D70 and 70-300mm lens taken during that earlier in the month (14-May-2011) visit to Fossil Rim Wildlife Center. And, yes, this is a giraffe's neck … if you couldn't guess.
Fossil Rim Wildlife Center – Glen Rose, TX USA on 14-May-2011.
++++++++++
At last… After months and months of pushing through a huge work-related project that has been on my plate, I am finally at the very end. That light at the end of the tunnel was much farther than expected … always way out of reach. It is good to finally have this weight off the shoulders and perhaps now I can get to concentrating more on my photography. Going to take a bit of a break from being behind the computer after this week, but will be back soon with much to share.
++++++++++
Constructive criticism and suggestions welcomed! Thank you for dropping by.
©Michael Rathmann 2011. ALL RIGHTS RESERVED.
Registered with the U.S. Copyright Office. No rights granted unless in writing by Michael Rathmann. Please do not use without my explicit permission, but feel free to contact me if interested.
Posted by M.Rathmann on 2011-05-25 22:22:22
Tagged: , 3-straight , Jurors , 70-200mm , giraffe , mammal , animal , Fossil Rim Wildlife Center , Glen Rose , TX , USA , 2011