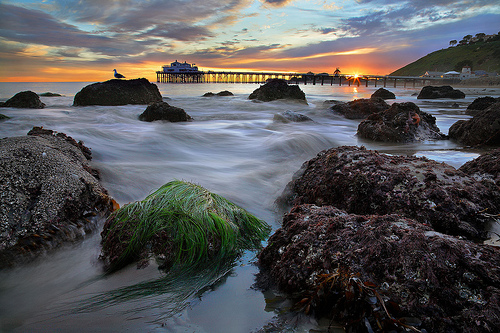 I'm feeling inspired this morning. A night filled with shooting stars will do that to me ya know.
I suddenly awoke at 2:30 in the morning…. i think the ghost in my apartment turned off my computers…. maybe it was trying to wake me up….. i spent the entire night doing post video stuff and photo this or that…. my computers run all night like tiny digital transmitters of me…. processing data and computing colors and compositions like circuit board puppets…. artistic nanobots hell bent on crunching numbers for lord button pusher… yummy… some nights i feel like Neo in the matrix with all the mumbo jumbo I got rockin in my apartment…. i can't seem to find more than 3 hours of sleep each night…. this to shall pass…. anyway…. I crept up to my rooftop in the middle of the night with that someone special to watch the Perseids Meteor Shower…. under our north star…. with my Ugg boots and a fresh pot of Manhattan mud from The Urth Cafe…. overlooking the Valley of the dolls….. rooftops among rooftops… while tiny scrapes dash across the sky hovering over Los Angeles…. like monsters with huge sharp nails tearing rips in our plastic sky…. revealing the light behind our perception of space…. for moments I glimpsed at the fiery light from that hidden dimension…. for brief seconds only… until the blanket of blackness rushed in again to keep things in order….. or…. you can call it dust from flying asteroids burning up in our atmosphere…. whatever…. i consider it a tear in the very veil that protects us from the truth…. and the truth iz… there is no space…. no stars…. no asteroids or dust :)…. What a life. What a view.
Thanks hun.
When i arrived downstairs… i decided to dig thru some older images I took from last year…. here's one that I could have never planned… OH sure, I scouted the area and I planned the tide, the foreground rocks and time of day with the sunset…. but the starfish, seagull and waves have a mind of their own, not to mention the frantic dance of the green mossy rock fish… so inquisitive…. so enticing and random are his steps… to time a shot with his cooperation is simply ludicrous. I take only partial credit for capturing this moment. I have quite a few shots of this seagull all around my pics this day… looking this way and looking that way…. it's actually really hard to pick one… they all tell a slightly different story…….. for example, in this image he's (or she's) staring out of my image…. out to sea…. watching something more interesting than me for sure…I liked that about him (or her)…. with everything that's happening at this precise moment… HE DOESN'T CARE! Well FINE! And those sneaky starfish, always up to no good, do you think they consulted with me before i left my house to say "Hey Mizz… we're gonna hang out on the favorable side of these rocks.. away from crashing waves and perfectly in a position for a Malibu Pier Sunset Photo… just lettin ya know!!" … I didn't think so… hey… i love the luck of the draw. So… You feeling lucky PUNK.. well… are ya!
en.wikipedia.org/wiki/Perseids
Posted by ™ Pacheco on 2010-08-13 13:35:17
Tagged: , waves , sunrays , sunflare , sunset , starfish , southerncalifornia , skies , seascape , seagul , pacificocean , pacific , pachecophotography , pacheco , oceansunset , oceanphotography , oceanlandscape , ocean , mossonrocks , mizzy , matthewpachecophotography , malibusunset , malibupier , malibucalifornia , malibu , longexposure , light , landscapeswithpiers , fullframe , dpp , docks , digitalphotoprofessional , cokinfilters , cloud , capturenx2 , canon5d , canon24105 , californiastatebeaches , californialandscapes , california , bluewater , blueskies , bluecloudysky