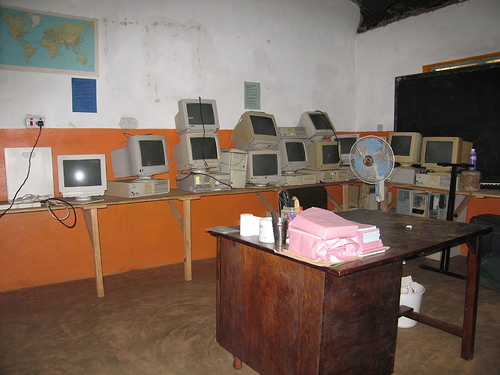 My big concern before i came out is that the schools primary need would be for physical installation and computer maintenance – skills those who know me know i possess extremely little of. Various queries to Emma were met with reassuring, yet decidedly non-definite, assurances that this would not be the case.
Yet on my first day i was met with the site of around 20 10+ yr old base units smothered in dust and in various states of decay and disassembly; some 2 dozen monitors in a similar state and a plethora of discs, CDs, cables and peripherals scattered in boxes, on the floor and piled on tables. Rats had done considerable damage to the cables and insides of many of the base units and i had not one actual functioning PC!
This pic shows the state of things after a good week of cleaning and auditing.
Now things are much improved – i have a decent P3 with 40Gb hard drive as a master 'puta, 2 Dell P3 laptops and a motley yet fully-functioning collection of 8 working mid 1990's Pentium 1's (or less!), with between 16 – 64 MB memory and sub 2Gb hard-drives all running Windows 98 and Office 2000. each has a working floppy and CD drive (from quad speed to the lightening quick 8x *LAUGH**) with various bits culled from the dozen or so fatalities that are now good only as footstools (or the last refuge of the wretched Ratticus Cableus Chewitus)
All have full virus protection – the laptops and the P3 master 'puta were riddled with serious worms & viruses that almost derailed the entire project by infecting my essential and precious flash drives
I'm damn proud of what's been achieved so far and the best is yet to come…..
Posted by leeabroad on 2007-03-03 08:43:54
Tagged: , Jolaurabi , School , Shanzu , Mombasa , Kenya , Africa , Mombassa , Children , educate the kids , Education , Kids