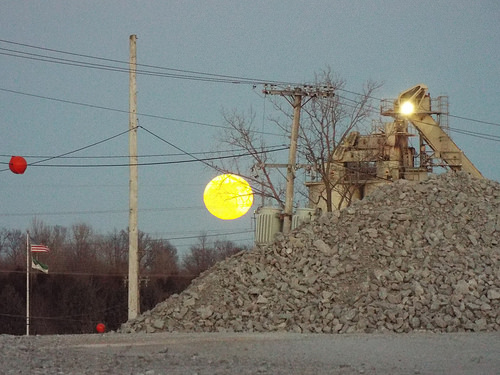 Taken near the Rogers Limestone / Sand Quarry
ryhttps://www.bizjournals.com/louisville/stories/2006/03/20/story4.html
By Brent Adams – Business First Staff Writer
Mar 20, 2006, 12:00am EST Updated Mar 17, 2006, 12:13pm
Nashville, Tenn.-based Rogers Group Inc. will invest $8 million in a new system to more efficiently process limestone mined from beneath the surface at its mine in eastern Jefferson County.
The company will remove an old conveyor system and install a more efficient version at Jefferson County Stone Quarry, said Rogers Group vice president Les Geralds.
The new system will have a series of rock crushers that will allow various sizes of stone to be produced in less time.
The quarry is located on Avoca Road off Old Henry Road near the Gene Snyder Freeway. Rogers Group began underground limestone mining there in 1999.
Ground was broken on the renovation last month. The work, which is being done by Process Machinery Inc. of Shelbyville, is expected to be complete by July 1.
Per-hour capacity to increase by 200 tons
The new system will allow Jefferson County Stone Quarry to process 850 tons of limestone an hour. The plant, which has a total of 50 employees, currently can process about 650 tons an hour.
The stone is used for driveways, roadways and concrete production.
Geralds declined to disclose the quarry's annual revenue figures, but he said the quarry ships between 1.5 million and 2 million tons of stone a year at priced at $5 to $7 a ton.
"The key is getting trucks in and out quicker," Geralds said, explaining that each contractor dump truck currently is loaded with stone or gravel and sent on its way in about 10 to 12 minutes.
The new system will allow a truck to be loaded every three or four minutes, which means as many as 1,000 trucks could be loaded each day.
The system was designed by Rogers Group engineers, who have designed similar systems for other Rogers quarries.
From Stone Age to digital age
The loading system is the latest improvement in stone processing and loading at the quarry.
About five years ago, Rogers began assigning truck drivers a radio frequency identification tag. It allows them to arrive at the quarry, have their trucks automatically loaded at a stone-dispensing bin, then check out with a load, all without interacting with another person.
Geralds estimated that about 15 hauling companies regularly buy stone from the quarry, along with various independent haulers that purchase stone less frequently.
The RFID system, which has been in use at the quarry for more than four years, has sped up the paperwork and billing process involved with purchasing stone, Geralds said.
"We have seen a 30 (percent) to 40 percent time savings since implementing this system," Geralds said. "We are hoping that this new system will further cut down the time it takes to load a truck."
He added that computer-controlled machinery that dispenses the stone also is more accurate than humans, ensuring accuracy within 200 pounds. In the past, it was common for trucks, which typically carry loads of 70,000 pounds to 80,000 pounds, to be overloaded by 1,000 pounds or more.
Posted by EX22218 – ON/OFF on 2018-01-02 02:33:54
Tagged: , stone , stones , moon , wires , pole , crusher , rocks , branches , balls , red , wolf , transformers , flag , dust , plant , trees , quarry , 40245 , louisville , kentucky , lines , power , electric , environment , COPD , respiratory , light , full , asthma , 40223 , limestone , grandfathered , trucks , tarped