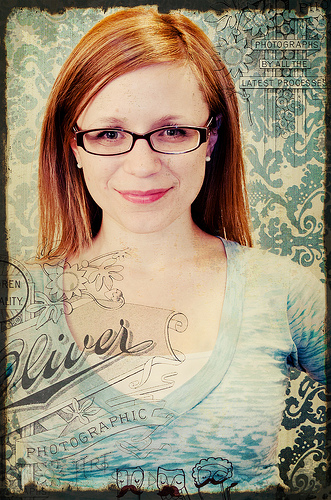 While setting up lighting for an unrelated project today, I snapped this photo as a test shot. I wasn't planning on doing anything with it.
But I pulled it into Photoshop… just to play. Design. Create. Have Fun. Things that many graphic designers & photographers forget to do among their many projects and deadlines. I wasn't planning on sharing the finished piece… mostly because I didn't even know I was working on something to finish.
I've been planning my self portraits so much lately. Thinking ahead, setting up, coming up with ideas and executing them with a plan in mind and a goal image in my head. Sometimes it's good to instead attack a photo with absolutely no idea where it's going. That's what I did here.
Then, I liked the outcome. So, here it is. 🙂
In this design I used elements I've had collecting dust in dark corners of my computer for years. The illustration overlay comes from a vintage postcard that I found somewhere, and saved because it made me happy to look at it. I really wish I could remember where I got it so I could give the source a shout-out! (If anyone recognizes it, please let me know so I can!)
Anyway, that was a very long way to say a simple thing: This one was just for fun.
Posted by lemonjenny on 2010-12-15 08:52:38
Tagged: , vintage , textures , damask , postcard , overlay , photographer , illustration , self portrait , cross processed , photoshop , Nikon , D7000 , Sigma , 18-50 , 2.8 , just for fun , texture