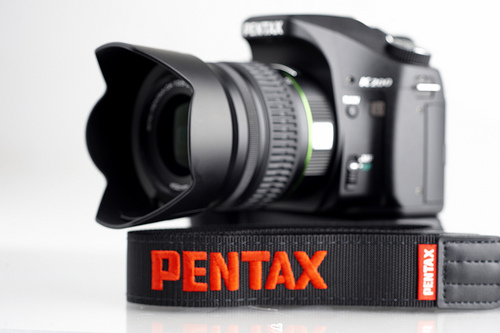 Buy/License/Royality Free
pa.photoshelter.com/c/monsterphoto/image/I0000o_9H3.goNoE
The PENTAX K200D, perfect for developing digital SLR users, offers an easy-to-use interface and incorporates award winning PENTAX imaging technology. With 10.2 megapixels, this DSLR features many of the advancements that are incorporated in the PENTAX K20D, including a 2.7 inch LCD monitor, Custom Image functions for perfect control over how images are developed, and the Expanded Dynamic Range function. Compatible with any PENTAX lens ever produced and featuring Shake Reduction, the PENTAX K200D offers a high quality image sensor with the sophisticated PRIME (PENTAX Real Image Engine), a user-friendly Dust Removal system including the new Dust Alert feature, 11-point SAFOX VIII auto focus system, sophisticated 16-segment multi-pattern metering and auto sensitivity control up to ISO 1600, all in a weather and dust resistant body.
Specifications
Sensor:
Type – Interline interlace CCD with primary color filter and integrated Shake/Dust Reduction sensor movement system; Size – 23.5 x 15.7mm; Color depth – 8 bits/channel JPG, 12 bits/channel RAW; Effective pixels – 10.2 MP; Total pixels – 10.75 MP; Recorded resolutions – 3872×2592 (10M), 3008×2000 (6M), 1824×1216 (2M) Quality levels: *** Best, ** Better, * Good; Dust removal – Image sensor movement combined with SP coating
Lens Mount:
Type/construction – Pentax KAF2 bayonet stainless steel mount; Usable lenses – Pentax KAF2, KAF, and KA (K mount, 35mm screwmount, 645/67 med format useable w/ adapter and/or restrictions); SDM function – YES; Power zoom function – n/a
Focus System:
Type – TTL phase-matching 11 point wide autofocus system (SAFOX VIII); Focus modes – AF Single (w/focus lock), Manual, AF Continuous available in Action mode (including Auto Pict Action), Kids mode, Pet mode, P/A/S/M/B/Sv; Focus point adjustment – Auto, User-Selectable, Center; AF assist – YES, via built-in flash
Viewfinder:
Type – Penta-Mirror; Coverage (field of view) – 96%; Magnification – 0.85x (w/ 50mm f/1.4 at infinity); Standard focusing screen – Natural-Bright-Matte II; Diopter adjustment – -2.5 to 1.5; Depth of field preview – Optical diaphragm stop down, Digital
LCD Monitor:
Type – 2.7" TFT color LCD monitor, adjustable brightness; Resolution – Approx 230,000 dots; Wide angle viewable – YES, approx 160 degrees horizontal/vertical
Built-in Flash:
Type – Retractable P-TTL popup flash; Guide number – 13 (100/m); Coverage – 28mm wide angle (equivalent to 35mm); Flash modes – TBA; Flash exposure compensation – -2 to 1 EV in 1/2 steps
External Flash:
Type – Hot Shoe (P-TTL, high speed sync available), Wireless with PENTAX dedicated flash; Synchronization speed – 1/180s
Storage Media:
Internal memory – n/a; Removable memory – SD, SDHC
Interfaces:
Ports – USB 2.0 hi-speed, video out, DC input, cable switch; Video out – NTSC, PAL; Printer interfaces – PictBridge
Power Supply:
Power source – 4* AA (lithium, alkaline, NiMH rechargeable); Recordable images – Approx 1100 w/lithium (approx 550 w/ 50% flash use); Playback time – Approx 700 min; AC adapter available – YES (optional)
Physical Specifications:
Body dimensions (W x H x D) – 5.2 x 3.7 x 2.9"; Body weight (without battery or removable memory) – 22.2 oz; Loaded and ready – 24.3 oz w/lithium batteries (25.6 oz w/alkaline batteries); Construction material(s) – Reinforced plastic polymer shell around a rugged stainless steel chassis; Operating temperature – 32-104 degrees F
Language Support:
English, French, German, Spanish, Swedish, Dutch, Italian, Russian, Portuguese, Danish, Finnish, Polish, Czech, Hungarian, Turkish, Japanese, Korean, Traditional/Simplified Chinese
Image Stabilization:
Type – Body-based, sensor shift Shake Reduction (4 stops maximum)
Metering System:
Type – TTL open aperture, 16 segment metering; Sensitivity range – EV 0-21 (ISO 100, 50mm f/1.4); Multi-segment – YES, 16 segments; Center weighted – YES'; Spot – YES; Exposure compensation – +/- 2 EV (1/2 or 1/3 steps); Exposure lock – YES; Exposure bracketing – YES, 3 frames, up to +/- 1.5 (1/2 steps) or +/- 1.0 (1/3 steps)
ISO Sensitivity:
Auto – 100-1600 ISO (1, 1/2, 1/3 steps); Manual – 100-1600 ISO (1, 1/2, 1/3 steps)
White Balance*:
Auto preset modes – Auto, Daylight, Shade, Cloudy, Tungsten, Fluorescent (W, D, N), Flash, Color Temperature; Manual mode(s) – YES * WB fine adjustment available
Shutter:
Type – Electronically controlled, vertical run, focal plane shutter; Shutter speed – 1/4000 to 30 sec, bulb available
Capture Modes:
Mode selection – Auto Picture, Picture (Portrait, Landscape, Macro, Action, Night Scene Portrait, Standard Flash-Off), Scene (Night Scene, Surf & Snow, Food, Sunset, Kids, Pet, Candlelight, Museum), Program, Sensitivity Priority, Shutter Priority, Aperture Priority, Metered Manual, Bulb; Green simplified mode available – n/a; P/A/S/M/B – P, A, S, M, B (extended modes include Sv); Date stamp – n/a ; Digital filters (capture) – TBA; Data record – Folder Name (standard, date)
Drive Modes:
Mode selection – Single, Continuous (Hi, Lo), Self-Timer (12s, 2s), Remote (0s, 3s), Auto Bracket; Continuous FPS – * 2.8 FPS (4 JPG and Continuous Hi, 4 RAW), * 1.1 FPS (unlimited JPG and Continuous Lo, 4 RAW); Self-timer – YES (12s, 2s); Remote control – YES, infrared (0s, 3s) and cable switch supported
Playbackl Modes:
Mode selection – One shot, two shots, index (4, 9, or 16 thumbnails), magnification, image rotation, folder view, slideshow, histogram, bright/dark indicators, RAW to JPG; Magnification – Up to 16x, scrollable; Digital filters (playback) – B&W, Sepia, Color (18), Soft (3), Illustration, HDR (3), Slim (+/- 8), Brightness (+/- 8)
File Formats:
Still – RAW PEF/DNG, JPG (EXIF 2.21), DCF 2.0 (design rule for camera file system), DPOF, Print Image Matching III
Custom Functions:
Functions available: 23
Computer Requirements:
For device connectivity. Bundled software requirements may vary. Windows – Windows XP/Vista, USB port; Mac – MacOS 10.2 or later, USB 2.0 port
Posted by MonsterPhotoISO on 2008-09-18 15:16:50
Tagged: , Pentax , Media , Focus , Continuous , ISO , Sensor , Lens , SLR , Rookies , monitor , LCD , Image , megapixels , Flash , Hot Shoe , memory , Metering , bracketing , Exposure , Shutter , Capture , Aperture , Productshot , Product photographer , Product photography , photographed By Saquan Stimpson , Saquan Stimpson , www.monsterphotoiso.com , Visit: www.monsterphotoiso.com