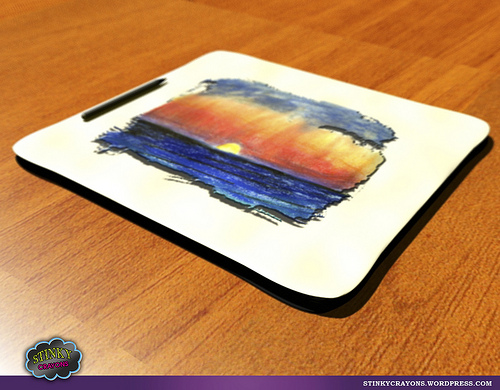 When I was a kid I thought one of the coolest things was having a custom mouse pad. It was like being the most elite rich person in the universe if you had a unique pad to rest your mouse upon. Those standard black mouse pads or the ones that looked like a weird pool table just were not for me, I had to have my own unique one.
Over the years I have been through many but they have always been there. I can't stand not using a mouse pad. It drove me freaking bonkers when I would work places that, a. did not have a mouse pad, or b. have ball style mice left over from 1992. For crying out loud, upgrade your gear! It's a red flag if a media company does not have at least gaming mice to work with. So check that out on your job interviews. It irks me so much that I often bring my own mouse with me to work – especially if I'm doing a lot of computer work.
Currently and for the past 5 years I have been using a Star Wars Death Star mouse pad. It's pretty cool, round and in the shape of said 'Star. Why is it called a star though? Does it create its own energy? It must since it can hold over 1 million people!
A picture of the Star Wars pad might be more exciting than looking at this one even though mine is covered in dust and it's hard to make out the Death Star anymore. I made this first from a crappy pastel quick landscape sketch. Then I scanned it into the computer and made it into a 3D mouse pad. Pretty easy stuff, I even made a pen but I think the scale is too small. I tried to make the edges not completely straight either and add some discoloring with texture effects. It looks like a pen for a tablet not to write with unless you are an elf.
Well, that's all for now. Long live the mouse pad!
www.stinkycrayons.wordpress.com
Posted by STINKY CRAYONS on 2014-01-11 08:56:36
Tagged: , 1990's , mouse pad , mice , can't use trackball , collecting mouse pads. Star wars death star mouse pad , 3D modeling , 3D studio max , gaming , objects , scenery , Stinky crayons , bad art , funny , humor , artist , drawing , painting , digital , weird , horrible , blog , post , update , art , media , collecting , mouse , pads , star , wars , death , pad