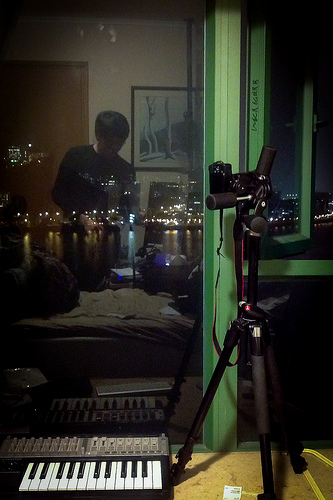 I bought an Eye-Fi card a while back assuming that it could geotag photos for me on the G12 if I use the iPhone app but no matter what I do I couldn't get that to work so I finally gave up and it was sitting dust.
But now that I have the EOS M semi-permanently mounted on a tripod next to the window so I never miss anything for the Serenity series, it has a new found use—automatically transferring raw and video captures to my computer while I photograph—thus removing the need to open SD card, import photos and put it back onto the camera. A great improvement to the workflow. Super sweet.
Through the reflection you can also see me photographing this with the iPad 3 mounted on the hover bar, thus leaving both hands free for controls. By using 645pro set to Nighttime mode, this capture works well as the slow-shutter is no longer an issue.
Photographed as RAW TIFF on 645pro, cropped down and processed in Lightroom 4. As usual, pardon the chaos. Also you will note that I have downsized to a twin from my New York queen bed. A bit sad but then space is expensive in Hong Kong and I get used to it.
"Eye-Fi + Canon EOS M + tripod for Serenity" #photography #tools
/ SML.20130123.223056.IP3.645Pro
/ #SMLSetup #SMLOpinions #SMLMe #CCBY #SMLPhotography #SMLUniverse
/ #Eyefi #Canon #CanonEOSM #EOSM #Manfrotto #tripod photography tools setup #LGBT #同志 #gay #男 #men #人 #people #biobots #photography #645pro
/ #HongKong #China #MaOnShan
Posted by See-ming Lee 李思明 SML on 2013-01-23 15:18:10
Tagged: , #Time , / SMLSetup SMLOpinions SMLMe CCBY SMLPhotography SMLUniverse./ E , 3030 , 645pro , CCBY , CN , Canon.17-40.f4L , Canon.EOS.M , China , EOSM , HK , HKG , Hong.Kong , IP3 , LGBT , MOS , Ma.On.Shan , Manfrotto , Manfrotto.190.XPROB , Manfrotto.190XB , Manfrotto.3030 , NT , New.Territories , Night , SML:Projects , SML:Projects=Landscape , SML:Projects=Me , SML:Workflow , SML:Workflow=Lightroom , SMLMe , SMLPhotography , SMLUniverse , Shatin , Shatin.District , biobots , gay , geekporn , geeks , humans , iPad.Photography , landscape , man , me , men , nerds , people , photographer:initials=SML , photographer:name=See-ming.Lee , photographer:name=李思明 , photography , reflection , seeminglee , tripod , 中国 , 中國 , 反影 , 同志 , 夜 , 山水 , 新界 , 晚 , 李思明 , 沙田 , 男 , 香港 , 馬鞍山 , / SMLSetup SMLOpinions SMLMe CCBY SMLPhotography SMLUniverse/ Eyefi Canon CanonEOSM EOSM Manfrotto tripod photography tools setup LGBT 同志 gay 男 men 人 people biobots photography 645pro/ HongKong China MaOnShan