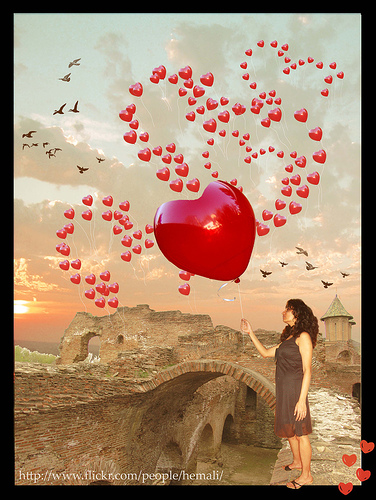 As 99 red balloons go by
99 dreams I have had
In every one a red balloon
It's all over and I'm standin' pretty
In this dust that was a city
If I could find a souvenier
Just to prove the world was here
And here it is a red balloon
I think of you and let it go
Sometimes life feels so beautiful, it almost seems surreal!
There is a certain sadness to reminiscing of beauty, and yet your heart goes back to those memories ever so often; because you don't want to forget the feeling that made you so impossibly happy, you wanna hold on to it!
Its hard to let go….
But then you must break free of what ties you down, make your peace and say your goodbyes as you watch the last balloon disappear.
99 Red Balloons Lyrics (Nena)
Many thanks to the following for their stock:
Model: Self
Ruins: Ruins1Fem by ~Castaway-stock
www.deviantart.com/deviation/17944665/
Birds: Birds of A Feather by *midnightstouch
www.deviantart.com/deviation/42767190/
Posted by Hemali Tanna on 2007-03-27 12:52:42
Tagged: , Hemali tanna , digital art , photomanipulation , 99 red balloons , red , balloons , ruins , sky , emotional , hearts , love , missing , surreal , PS queen 🙂 , Explore , pretty woman , Feels like love , self portrait , love story , romantic , computer art , computer graphics , graphic design , graphic art , digital imaging , Photoshopped , Photoshop , Photoshop addicts , Photoshop Professional , Graphic artsist , digital artist , flying , wonderful concept , interesting , whimsical , goodbye