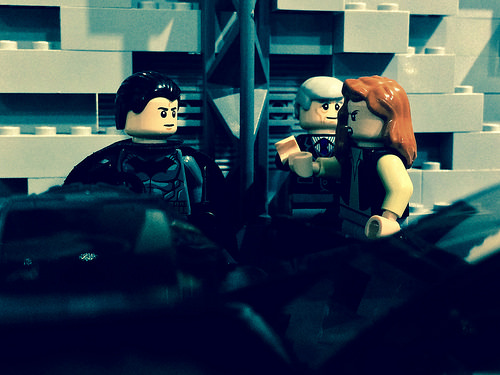 It takes a further twenty minutes before I'm able to get Tim and I out of the hospital so we can make our way back to Wayne Manor. That Richard Lyons sure does love to talk, that's putting it politely. But sure enough he's managed to convince me to invite him up to Wayne Manor to have a meeting about possible redevelopments in Gotham. With the funding that the Wayne Foundation can provide, Lyons Infrastructure should be able to do wonders for Gotham. It's just a shame it took so long for him to pitch the idea to me in the first place.
By the time we make it back to the house Alfred's started grumbling about all the work he's not been able to do thanks to our trip to the hospital. Despite all his moaning though I know deep down he's simply relieved that Jim's alright all things considered. The Crimson Knight isn't known for being merciful to anyone that crosses his path. But I know the truth of it all.
He didn't leave Jim alive out of pity. He did it to send a message to me. No-one is safe from his wrath, and given his knowledge of Bruce Wayne and Batman being one in the same I need to be ready for a possible offensive against me. If there's one thing he'll hope to gain from the copy of the GCPD database he stole it's allies. I need to anticipate his moves and learn who he may have released already. Logically to counter my forces he'll need a sizeable force given the skill level of Tim, Dick and Jason. Then again it's questionable as to whether or not he knows I have Dick and Jason to call upon. Last thing I want is to drag them in to Gotham where they're unneeded. I can only hope the mission I assigned to Jason of retrieving the anti-lazarus will prove to be unnecessary in the long run.
As night falls I quickly hear news that the Crimson Knight assaulted the Martha Wayne psychiatric hospital in south Gotham and freed Standler. Strange. What could he hope to gain from releasing Standler of all people? He's hardly a threat to anyone beyond giving them a shock as he sprays them with condiments. There can only be one reason he chose to free Standler. An attack on me. No-one else in Gotham know it aside from myself which makes it the perfect message. To the rest of Gotham the mysterious figure who assaulted the police commissioner just broke into a hospital and freed a crazy patient. But for me it's perfectly clear. It's an attack on me and the legacy of my family. He intends to burn me and bring the Wayne legacy crashing down to the ground. Not if I can help it.
Bizarrely for all his talk of facing me one to one he chose to attack the hospital in broad daylight and risk direct confrontation with the GCPD when they're well staffed rather than risk me. Perhaps he's more afraid of me than he dares admit. Or more likely he's boasting, for all of Gotham to see. I'll be sure to punish his arrogance.
Tim heads out to hunt down his latest lead on Film Freak he obtained during his stay in Carthage whilst I prep the bat mobile for deployment. I need to stop the Crimson Knight before his plans are allowed to come to fruition. His plans for Standler are a mystery to me but whatever they are, they can't be good. As I leave the systems diagnostics for the bat mobile to run I put the suit on and grab a spare cape from my the vault. Alfred hasn't got round to cleaning my cape from last night so I'll have to make do with this spare one for now.
As I walk back down to the vehicle bay I can't help but notice Alfred chasing after a visibly annoyed Barbra. I guess she's still registered in the bat computer as an ally thus why the alarm didn't sound. Odd mind, I could have sworn I removed her security clearance when her and Dick left and went to Bludhaven.
"Miss Gordon please he's about to head out on patrol!"
"I know Alfred. I shouldn't be long."
"Barbra? What brings you back here?"
"We both know what Bruce. I want to get my hands on the one who hurt my Dad."
I pause for a while. It's good to see Barbra back in the cave after so long. She hasn't stepped back in to the cave ever since Dick left Gotham after our argument. But despite how happy I am to see her finally return to the cave I can't let her go after the Crimson Knight. The Knight has already been trying to target Tim, the last thing I need is for Barbra to become a target as well. One member of the Gordon family has suffered already thanks to me. I won't let another suffer.
"No."
"What did you just say?"
"Your father has already suffered because of me. I won't let someone else suffer because of me."
"That's not your call to make Bruce."
"I'm afraid it is Barb."
As I those words she attempts to her way to display case with her old costume is stored. I know what you're up to Barb and I'm sorry but I can't let you go through with this.
"Shadow protocol. Authorisation: Batman-001."
With that the display cases seal themselves and lower into the cave floor to avoid them being discovered in the event someone accidentally stumbles upon the cave. The Batcomputer also conceals itself in the cave wall as well as the an artificial wall covering the entrance to the suit vault.
"What the hell are you doing?"
"What your father would want me to."
"Don't you dare use him against me."
"He needs you by his side right now Barb. Let me handle the Crimson Knight."
"Crimson Knight? That guy that dropped a warehouse on you?"
Clearly Dick brought Barbra up to speed on what happened in Gotham whilst he filled in as Batman.
"Yes. Him."
"Are you sure you're up to this? I mean Dick said he put you out of action for a week, I've never known that to happen."
"It was a simple mistake. One I'll be sure to not repeat. But right now Barb I need you safe. He's already been targeting Tim. I won't let you be put in his crosshairs either."
"But Bruce I can help."
"Yes you can, but right now your father needs you more. Please Barb. Leave this to me."
Begrudgingly she agrees.
"Fine. But the minute you have him I want to know. He needs to suffer for what he's done to my Dad."
"I will Barb. I promise."
"Thank you Bruce."
"Alfred can you drive Barb back to the hospital."
"Of course Master Bruce. I'm sure the dust can wait another hour before I get around to cleaning it."
"Thanks Alfred."
"Not a problem Miss Gordon."
"Don't stay out too late Alfred. Last thing we want is for the Lyons family to think I'm a slob."
"Don't worry Master Bruce. Hell will freeze over before I let Wayne Manor become a cess pit."
"Good to hear Alfred."
I place my cowl over my head and jump into the bat mobile and prepare for departure. As I'm about to shut the canopy I hear Barbra and Alfred call out to me.
"Good luck Bruce! Give him what he deserves!"
"Good hunting sir!"
They can't see it but their words of encouragement bring a smile to my face. With that I slam my foot down on the accelerator and the bat mobile races out of the cave as I make my way towards Gotham.
Posted by Supremedalekdunn on 2015-10-22 21:34:00
Tagged: , The , Dark , Knight , Gotham , Crimson , Bruce , Wayne , T , Tim , drake , alfred , pennyworth , barbra , gordon , police , commissioner , jim , dc , comics , stories , group , supremedalekdunn , detective , robin , nightwing , batmobile , batcave , justice , league , superman , wonder , woman , green , lantern , flash , cyborg , arrow , aquaman , pillars , lego , superheroes , legosuperheroes , crime , syndicate , universe , hola , bug , wassup? , payton , is , smelly , poopoo , head , doubt , he'll , see , that , hope , characters , worlds , greatest , hero , batman , caped , crusader