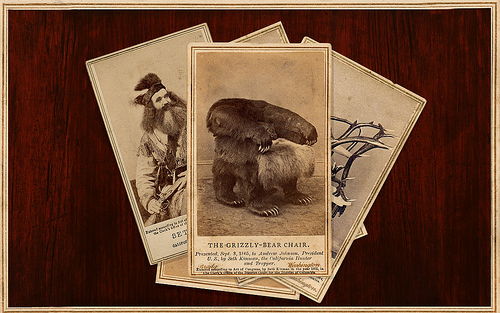 What has 4 legs, 2 arms, 1 head, 8 inch serrated teeth and is covered in soft fur?
from my website: www.abcdeology.com/?p=108
–
The Grizzly Bear Chair!
The Grizzly Bear Chair was given to President Andrew Johnson by California frontiersman Seth Kinman shortly after Lincoln's death.
Although the chair was "soft and exceedingly comfortable", "the great feature of the chair was that, by touching a cord, the head of the monster grizzly bear with jaws extended, would dart out in front from under the seat, snapping and gnashing its teeth as natural as life".
Yes, a giant bear head would come out from under the chair and bite your legs off.
–
Lincoln still got a Kinman chair before his death. Guess what it was made of? Cute stuffed teddy bears? Milk crates? No. Stabbing, sharpened elk horns.
–
Kinman presented the chair to Lincoln along with a fiddle "made from the skull and a rib of his favorite mule". I wonder what happened to mules he didn't like?
"He played 'John Brown' on the bones of the mule. Lincoln said that if he could play the fiddle he would ask him for it, but since he could not, the fiddle would be better off in Mr. Kinman's hands." – Stanley Kimmel, a pants pissingly scared bystander.
–
Kinman was a bit eccentric. Migrating to California in 1849 because of the Gold Rush (who could tell he was a crazy prospector with a clean cut face like that?) he hunted the Grizzly bears in Humbolt county to extinction in the 1860s (large groups of 40 bears roaming together were not unusual prior to that). He claimed a kill count of over 800 Grizzly Bears and over 50 elk a month. Alongside hunting bears, he hunted men. An extremist racist bastard, he would shoot any Indian he met. The author of The Ethics of Grizzly Hunting called him "a mixture of brutality, cunning, and good humor". The New York Times called him "THE PACIFIC COAST NIMROD WHO GIVES CHAIRS TO PRESIDENTS".
–
Today, his great grandsons work for a web hosting company. Truly the American dream. I hope all their servers run off steam power from a furnace that burns bears.
Kinman's descendants still pray that the undead chair their great grandfather built doesn't come shambling through the woods some moonless night to drag them to hell…in its exceedingly comfortable seat.
–
The cards in the picture were sold by Kinsman while he visited Washington.
Posted by Thoth, God of Knowledge on 2009-07-02 08:12:49
Tagged: , wallpaper , wall , paper , background , computer background , grizzly , bear , frontier , 1800s , Civil War , rustic , wood , furniture , hunter , hunt , claw , Washington , trading card , postcard , souvenir , memento , beard , West , Americana , USA , United States , found , antique , ephemera , old , collect , dust , fur , furry , surprise , Davy Crocket , Grizzly Adams , kinman , nimrod , John Brown , Lincoln , Abraham , Andrew Johnson , California , frontiersman , Seth , President , gift , present , trap , soft , legs , chair , teddy , elk , horn , fiddle , skull , mule , Gold Rush , prospector , 1860s , 1849 , 49ers , 800 , Indian , racist , America , American dream , tame , wilderness