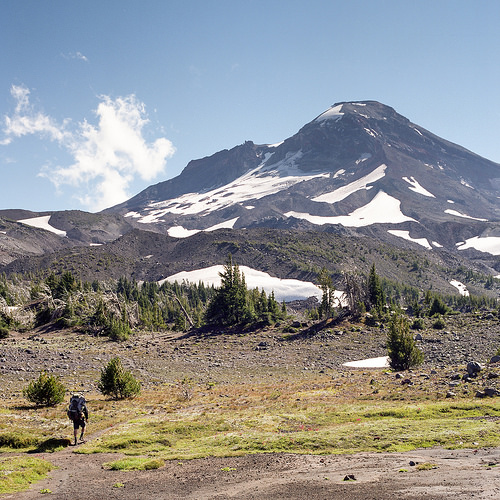 Backpacking trips are good for the body and good for the soul. I have a hard time thinking of anything more healthy (at least for me personally) than multiple days out in the woods full of exercise, fresh air and mood boosting views. Add to that the fact that you are often forced to disconnect from technology and the ever more depressing world of current events…..yeah it's good for the mind too.
I move different on a backpacking trip. I use different muscles on uneven ground, stepping over logs or crossing streams. I stretch, squat, twist and bend much more than I do in my daily work life. There is no comfy office chair, but instead a grassy slope or flat rock.
I use my eyes differently. Much of my normal day I am looking into DSLR viewfinder or 24 inches away to a computer screen. Out in the backcountry my eyes stare at far away horizons, and size up everything from a snow capped mountain to a tiny wildflower the size of a fingernail.
I photograph differently too, more intently. I study the landscape and look for ways to provide perspective on how massive these objects and places are. I deal with dirt, dust and sweat. Hands lathered with sun screen and bug spray.
A backpacking trip is hard work (more so when you are carrying a Hasselblad) but the pay off is worth it. Not only do I love the images, but I also come back with a healthier body and mind.
Image with my Hasselblad 500cm.
Posted by Aaron Bieleck on 2017-07-07 23:01:17
Tagged: , Hasselblad 500cm , 120 film , analog , 6×6 , square , film , film is not dead , Hasselblad , medium format , wlvf , backpacking , North Sister , outdoors , PNW , Pacific Northwest , Oregon , hiking , Fuji Pro 160s , Sisters Mountains , mountain , landscape , trees , 60mm CT*