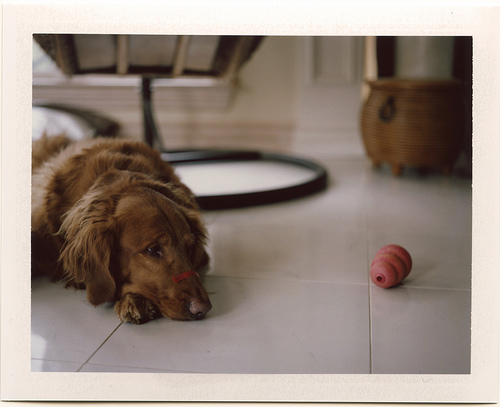 Taken with a Polaroid 600 SE with the 127mm. I forget the aperture but it was a cloudy day and I remember they shutter being something like 1/4 sec. I think the piece of tape on his snout is from this scanner that I got months ago and hadn't used a single time until last night to scan this photo.
Scanned using an Epson v-500 at 1200 dpi and compression at 16 on Professional mode. Full Auto mode scans a bit faster (around 57 seconds for each of the 3¼ x 4¼ instant prints) but it added some weird .jpeg artifacts. Actual size when masked in Professional mode turned into something like 3.6 x 4.2 for some reason. I'll write things down next time. Final scan came out to be 5094 x 4144. Oh. I guess that gives me the dimensions too. Shut up. 3.453 x 4.245
Colour pack film has these really, really tiny pits on the surface, maybe a few per square millimeter, that are pretty neat when you look at them up close. (Well, Fuji pack film does anyway, I haven't checked Polaroid pack or sheet and never noticed it on Polaroid 600) Apparently, the angle of incidence of the scanner light is perfect for filling those pits with light and presenting them to you as a bojillion little faint specks which you will think is dust and will cause you to spend 10 minutes squeezing a rocket blower over the scan bed and photo and 20 minutes moving and scanning the photo.
Adobe Elements 6.0 dust and scratch remover at 2 pixel radius and threshold of 2 to remove the thousands and thousands of little specks and applied warming filter (LB1 or 81, I don't remember exactly now) to correct slight blue tint from scanner. (Turned the border faintly yellow; you can see the difference in the next photo of Harrah)
Colour rendering after the warming filter is closer but still not exact, specifically the reds, and overall it seems slightly muddier than when I was looking at it on another computer. Now I have first hand experience on why one would want one of those colour calibration things to stick on their monitor. I don't know how much of it is the whole, "No way man, a digital image can't capture the saturation and depth of a print". I'm hoping that the difference is at least consistant and I can just adjust the curves and slap on the same filters for each scan.
(I just noticed the slow fade to white of the border as you go up and how distracting it is)
Posted by yarr2d2 on 2009-06-18 17:01:00
Tagged: , Polaroid 600 SE , Mamiya 127mm , Fuji , color , instant , film , FP-100c , Polaroid , Fujiroid , scan , Epson , v-500 , 1200dpi , 1200ppi , Red , Kong , chew , toy , dog , Bogy , golden , retriever , pack , scanned , medium , format , 3.25x4x25