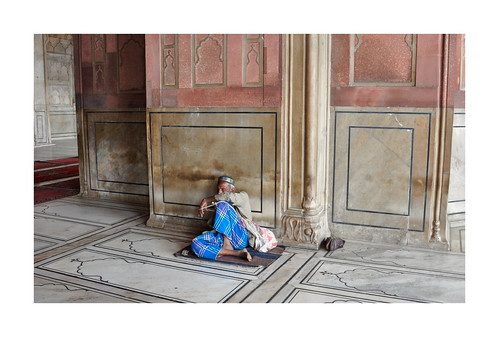 Have you been to India? Oh such a complex land to navigate! Nothing quite prepares you for experience, not even years of traveling in Asia.
Its sights and sounds, mingled with the aroma of exotic spices can overwhelm the visitor. History of the land is complicated by signs of a colonial past that was overthrown by a non- violent force. Many of the majestic architectural masterpieces remain and have been restored. This past joins with many other periods when others of another religion ruled the land and created their own masterpieces. Even the most passionate historian can be overcome with facts and details.
One must add the conflict between religions that seem to be ever present and ever changing: Islam vs. Hinduism. Wars were fought. Many were persecuted. Two nations emerged from one. Though many Muslims moved to Pakistan, many still remain in India. There always seems to be an undercurrent of mistrust.
So as a visitor, one must not only navigate through the past to understand the India of today, but also come to grips with clogged streets of vehicles with horns blasting away, the ever present dust in the air, and the sights of the every day struggles of the outcasts of society.
Who is who? What is poverty? Who is happy? Who is poor? What Hindu god is this? Did a Hindu or Muslim man or a British man build this building?
As much as I had difficulty with some of the arrangements of my first trip, I must applaud the man who sat in his tiny office surrounded by men on phones in front of their computers. He gave me a comprehensive itinerary that took me to places I would never have booked myself.
This is an image of the prayer area of the famous Jana Masjid mosque in Delhi. It was built in the 1650's from beautiful red sandstone and marble. I will allow you to try to answer the questions I posed above.
Posted by The Spirit of the World ( On and Off) on 2019-07-09 18:49:53
Tagged: , India , Mosque , historical , historical sites , history of India , Islam , prayer hall , Local , man , worshipper , marble , sandstone , red , 1650 , Jana Masjid , Delhi , New Delhi , architecture , famous mosque