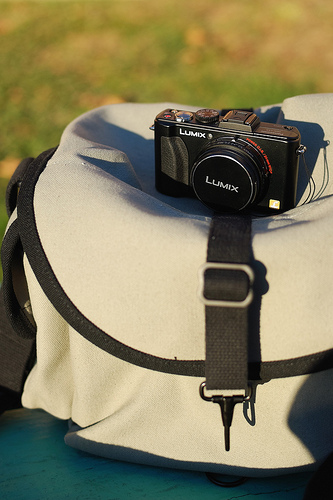 LX5 on Domke F-3X gray.
Nikon D60 | AF-S DX Nikkor 35mm f/1.8G
—-
As I think many people ran into my photostream looking for LX5 images before deciding which camera to buy, below I'd write my thoughts on this compact camera. Some may find it useful.
Please note that Panasonic issued the first firmware update (Ver.2.0) on September 13th, 2011, and most of the content here was written before the update. I have added/will add a few points regarding the update (written in bold).
– What I like and dislike about LX5
I like
1. a fast lens starting at 24mm up to the convenient 90mm.
2. moderate performance in low light. I don't mind using up to ISO800 but other people may have a different opinion on that.
3. O.I.S. (Optical Image Stabilizer) – it seems working pretty good.
4. Good dynamic range
5. Good AWB. I'm impressed. (This was compared to my old Ricoh GX100. Now I don't feel it so special..)
6. Hardware switch for aspect ratios – very convenient.
I dislike
1. stiff dial on the back. I sometimes unintentionally switch exposure/aperture modes by trying to adjust one of them.
2. C1 & C2 custom settings which don't remember some things I want them to remember, like zoom length and f stop. So they are practically useless to me.
3. AF setting which doesn't remember the size of AF area. I prefer to keep it at the smallest but it goes back to the default size once you turn the camera off. (And C1 and C2 don't remember it either.)
With the firmware update (Ver. 2.0), now the size of the AF area is stored!
4. screen!!!! At first, you would really like it, but a) it crams too much information in a display, and more importantly b) the color of images on a display looks so differently from what it really captures (the display on LX5 is too bright and colors are a bit saturated, or tinted). When you look at the images on the computer home (I have a color calibrated monitor), I get quite different impression often times. If you can't trust color of the display on the camera, how do you adjust the shooting settings?
With the firmware update (Ver. 2.0.), now you can adjust the LCD display regarding brightness, contrast & saturation, red tint, and blue tint.
– Other thoughts
Image quality is more than satisfactory to me for a P&S or sub camera (but I'm not comparing with LX3 which some people claim produces better images). Looking at some shots I took, I actually feel a longer tele seems made possible at the expense of IQ at the widest.
I rarely, if ever, shoot videos so I can't comment a lot on that. But one thing I found confusing was its file type (Note: I never shot videos before buying this camera). As the motion jpeg requires a lot file size, I shot videos in AVCHD and had a trouble finding a way to PLAY it (.mts) on my computer. What I eventually did is to first install Windows 7 Live Movie Maker (free) and then convert the mts file to a wmv file. (This paragraph was added in January 2011)
Many people complain about the lens cap but it doesn't bother me much (it's the same as SLR lenses). I actually prefer this way in terms of protection from dust. I owned GX100 with LC-1 attached which had a slight gap so it let some dusts in.
Overall, I think it's a nice P&S camera, though with some issues. I still miss the great ergonomics and user interface of Ricoh GX100, but the image quality and high ISO performance easily beats the old generation camera. The LCD screen is the biggest problem to me so far.
My deciding factor compared to s95 (as many people choose between them; g12 and p7000 are too bulky compared to these two models) by the order of importance;
Wider zoom (24mm vs. 28mm, although I believe the latter is wide enough for most people)
Macro capability (1cm vs 5cm closest focus)
Shutter speeds (60 to 1/4000 sec vs 15 to 1/1600 sec)
Better holding and handling
Longer battery life
The first two items were particularly important to me as my old GX100 had those features. But BOTH LX5 and s95 are great cameras. You just need to understand what you need for a P&S. For example if your priority is the size, then no-brainer, pick the s95.
Posted by Lindeberg Feller on 2010-11-14 03:40:09
Tagged: , Nikon , D60 , AF-S , DX , Nikkor , 35mm , Panasonic , LUMIX , DMC , LX5 , Domke , F-3X , shoulder bag , camera , Gray , 700-30G