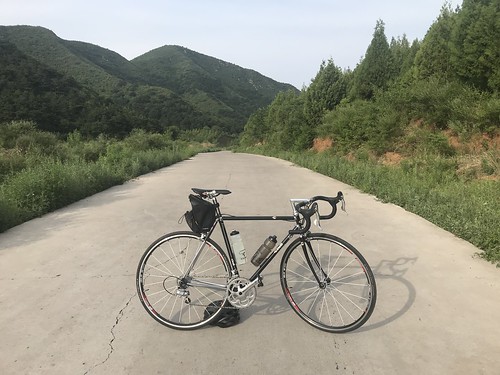 Not a new bike.
Not an old one either.
I bought it 6 years ago in Taiwan, at a time when I thought I would spend more time there. But I didn't. And the bicycle spend half a decade in a friend's wardrobe.
So why did I buy it in the first place? I certainly didn't need another bike. I already had n+1 bikes. But I wanted a nice steel frame (for no reasonable reason) so I checked some shops in Taipei to see what I could find. It turned out that several of them had Supercorsas, already gathering dust for a few years and nobody wanted to buy them. The prices had been reduced several times already, but to no avail. It seemed that a whole container of these frames had arrived on the island a while ago but the market wasn't ripe for it, because everybody wanted carbon. Unfortunately they were all too small for me.
But I liked the idea of a Supercorsa frame, because it looks classic without being retro. So I bought one after all and compensated the small size with a high seat post and a long stem. Now, finally, I have rescued it from the wardrobe and brought it to Beijing, where I now spend most of my time.
Style is important, so there's nothing Shimano on this bike. And no computer! That would be an insult to the beautiful stem.
Posted by Die Welt, wie ich sie vorfand on 2019-06-15 09:50:12
Tagged: , bicycle , cycling , Cinelli , Supercorsa , 中國 , China , P.R. China , PRC , 北京市 , Beijing , Peking , 密雲區 , MiYun , District , 溪翁莊鎮 , 北白岩村 , 北小路 , Campagnolo