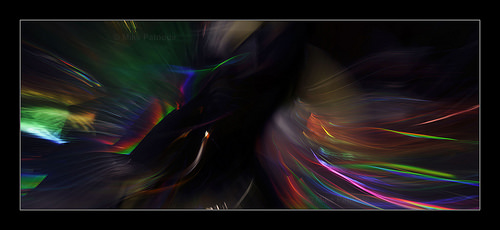 When making the images I think a lot of space and what is out there no one has ever seen. What if this was looking out the window of our ship as we fly past clouds of space dust. What would we see be for we find a new world or more beings like us out there. It is fun to dream of the unknowns.
Mike
Father and son collaboration
Our photographic art is a kinetic motion study, from the results of interacting with my son A.J and his toys.
He was born severely handicapped much like a quadriplegic. On December 17,1998. Our family's goal has always been to help A.J. use his mind, even though he has minimal use of his body.
A.J. likes to watch lights and movement. One of the few things he can do for himself is to operate a switch that sets in motion lights and various shiny, colorful streamers and toys that swirl above his bed.
One day I took a picture of A.J. with his toys flying out from the big mobile near his bed like swings on a carnival ride. I liked the way the swirling objects and colors looked in the photo.
I wanted to study the motion more and photograph the whirling objects in an artful way, I wanted my son A.J. to be a part of it. After all, he's the one who inspires me. When A.J. and I work together on our motion artwork, A.J. starts his streamers and objects twirling, I take the photographs.
Activating a tiny switch might not seem like much to some, but it's all A.J. can do. He controls the direction the mobile will spin, as well as when it starts and stops. The shutter speeds are long, and sometimes, I move the camera and other times I hold it still.
I begin our creation with a Nikon digital camera. Then I use my computer with Photoshop to alter the images into what I feel might be an artistic way. Working with Photoshop, I find the best parts from several images and combine them into the final composite photograph. I consider the finished work to be fine art. The computer is just the vehicle that helps my expressions grow.
I take the photographs and A.J. adds the magic. It's something this father and son do together. After I've taken a few shots, I show him the photos in the back of the camera. When the images are completed, I show him from a laptop. He just looks. He can't tell me whether or not he likes the images, but he's always ready to work with me again.
It offers me my only glance into A.J.'s secret world. We've built a large collection of images and I hope the motion and color move you as much as they do me.
A.J. inspires me to work harder to understand my life in the areas of art, photography, people, spirituality, and so much more. He truly sets my mind in motion and helps me find the beauty in everyday things.
Abstract Art set:
www.flickr.com/photos/patnode-rainbowman/sets/72157602269...
AJ Patnode – A Journey of Hope (documentary):
www.youtube.com/watch?v=OR7m8QFcmRM
This shows how I do the Camera work:
www.youtube.com/watch?v=fmjVVGraUVw
AJ'S blog:
www.ajpatnode.com
Posted by Michael Patnode on 2015-10-12 11:38:16
Tagged: , Mike Patnode , AJ Patnode , Patnode , psychedelic , Clouds , Art , Abstract , Nikon D300s , Photoshop , Motion , fun , wild , pyadelic , playful , Happy , contemporary art , contemporary , Significant art , Creative art , Motion Art , Photoshop Art , Incredible art , Incredible , Amazing , Photographic art , Fine art photography , visual , Dynamic , Gestural abstraction , Notable action , Action , Kinetic Art , Kinetic , kinetic photography , Beautiful artwork , Unique , Healthcare , Divine , Fresh , Joyful