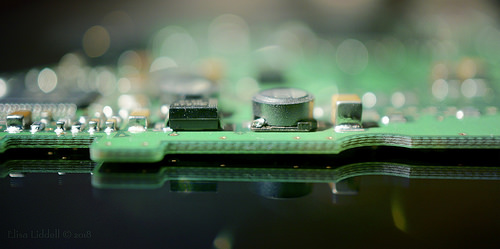 No sign of Marlon Brando though ;o)
For the Macro Mondays challenge "Inside Electronics" (July 9th 2018)
This year we replaced our old computers, and that meant destroying hard drives. I saved a few components, including a circuit board – "just in case". So I dusted it off for this week's challenge. At last one of my hoarded items has found a use! Shot on the black glass of my Kindle.
HMM and have a great week! ;o)
My 2018 set: 2018 Macro Mondays
All the previous years of the challenge:
My 2017 set: 2017 Macro Mondays
My 2016 set: 2016 Macro Mondays
My 2015 set: 2015 Macro Mondays
My 2014 set: 2014 Macro Mondays
My 2013 set: 2013 Macro Mondays
Posted by Elisafox22 catching up again ;o) on 2018-07-08 17:26:17
Tagged: , Elisafox22 , Sony , Nex-6 , E30mm , F3.5 , macro , macro lens , HMM , Macro Mondays , bokeh , Inside Electronics , green , circuit board , Kindle , black , reflections , electronics , component , lens flare , tabletop , indoors , Elisa Liddell © 2018