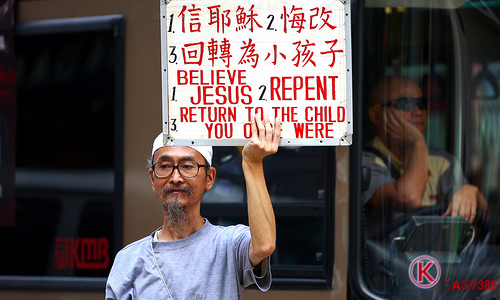 …YOU ONCE WERE
From the category…"Things you won't see in mainland China…".
I visited Hong Kong this past weekend with my friend Robert Lio. While there, we met Arndsan, Mr. Chan and Yangshuoren Jonky for a bit of a Flickr meet-walk. Flickr amazes me like that, 5 guys from across the globe, brought together in Hong Kong, by a love for photography. These guys are all very skilled artists, I highly recommend taking some time to look at their work.
I am happy to say I was able to fulfill one of my main missions, when Robert found a great Mexican restaurant in Shenzhen. 15 months without Mexican food. I am a survivor.
On a down note, my computer has officially bit the dust, the hard-drive is gone and a lot of my data went with it. Fortunately most of the photos were backed up. I'll be getting something new soon. I don't have the disks for PS or LR and of course I didn't write down the activation codes anywhere! IF ANYONE CAN HELP ME OUT WITH DISKS OR ACTIVATION CODES FOR PS & LR PLEASE LET ME KNOW.
Posted by Michael Steverson on 2008-10-21 07:19:19
Tagged: , hong , kong , jesus , asian , man , chinese , sign , repent , bus , city , steet , chinadigitaltimes , expatriate games , expatriate , games , all rights reserved