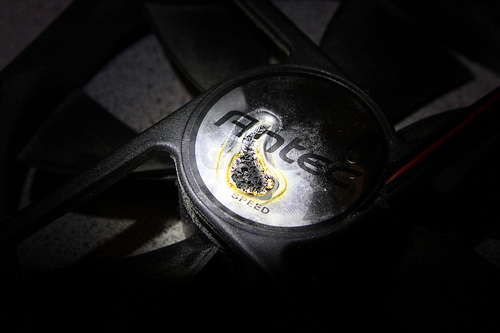 I wouldn't normally post something like this, but maybe it will help someone. The other day I turned on my computer only to see thick black smoke pouring out of the back of the computer within a few seconds of starting it. I dove under the desk and ripped out the power cord. Upon opening up the case and inspecting where the problem was. I saw the fan at the back looked like it had caught fire.
The fan was an Antec Tricool 120mm fan that came with the Antec P182 case. One of the circuits in the fan, that I believe controls the speed, looked like it had arched and was melting/burning through the almost quarter inch thick plastic behind it. My case is not super dirty, it has front air filters to keep most of the dust out, I also clean out the case with a can of air every couple of months. As you can see from the pictures it melted all the way through, not to mention the parts inside you cant see. The one pic of the fan grill at the back, shows you how hot it got to change the color of the case. Even with it burning for no more than 10 seconds it took hours to air out the room, with a 2×2 foot fan running and almost a week for the smell to go away.
My real problem is with what could have been. Had I not been at the computer when this happened the smoke damage alone would have been terrible. Let alone if some of the burning plastic had dripped to the carpet or onto something else and caused a fire, could have lost the whole house. I have since ripped out all three of these fans that came with the system and replaced them with basic single speed fans from what I hope is a better manufacture.
Posted by Hammond Photography on 2011-02-17 05:01:26
Tagged: , Antec , Tricool , 120mm , fan , fire , burning , smoke