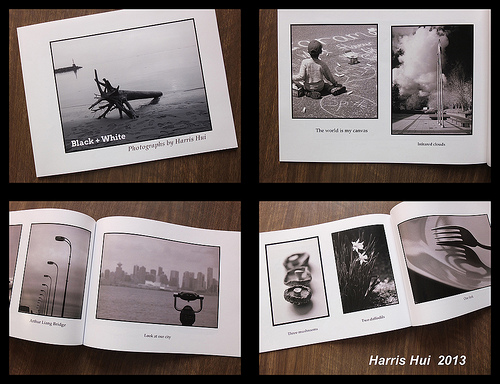 The idea of printing a photo book is always tempting to me.
However the book will just sit there and collect dust afterwards.
May be I should save the trees and let the pictures be stored in the hard drive or just showing them on Flickr … :o(
Have a great weekend!
The following is the original story posted before.
As photographers, I think most of us love to show our pictures in print form instead of just display on computer monitor screen. There are many great ways to show photo works in print form. One is to show large framed prints in a good gallery or museums such as Louvre (like Cartier-Bresson!), Tate Modern or MoMA. Another way is to publish a book.
Nowadays self publishing is very popular. There are so many photo labs and websites offering photo book printing. Still this is very different from the publishing done by a professional fine arts/photography publisher because they have professional designer and editors to make your works presented in the best format, with professional printing and quality paper.
Anyway these are all dreams to a no-name amateur like me. Recently a local photo lab is offering 40% discount on photo book printing and I did a 20-pages book for my B&W pictures. B&W is one of my constant interests. Nobody will publish a book for me and let's DIY and dream a dream!
Happy Wednesday!
Posted by Harris Hui (in search of light) on 2016-01-22 23:48:00
Tagged: , Harris Hui , Fuji X10 , Digital compact , Fuji , Fujifilm , Vancouver , Richmond , BC , Canada , Vancouver DSLR shooter , Lisbon , Lisboa , Portugal , Vacation , Travel , Vacation travel , Europe , Point & Shoot , Travel photography , Photo book , Dream a dream , Dreams , Show your photos in print form , Show your works in gallery and museums , Louvre , Tate Modern , MoMA , Print a photo book , Publish a book , B&W , Black & White , 夢想 , 我有一個夢想 , 出版一本攝影集 , 在盧浮宮展出攝影作品