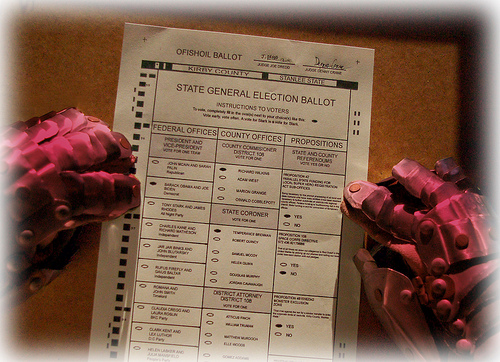 (SEE THE LARGE SIZE TO FIND OUT WHO GOT THE IRON VOTE!)
Tony Stark, A.K.A The Invincible Iron Man, was supposed to have voted at a staged photo opportunity early on Election Day.
Well.
First he had to fly off and support a collapsing building that was damaged during World War Hulk.
Then catch a falling S.H.I.E.L.D helicarrier that (surprise!) had lost power while cruising over Manhattan.
Defeat a combined A.I.M/Hydra attack on Stark Tower while simultaneously preventing
the Mandarin from destroying the East Coast with a nano-bomb generated Tsunami.
And, oh yes, there was the minor matter of the Skrull Invasion of Planet Earth….
All in all he was lucky to get to a polling station at all before closing.
By that time of course his armour's sophisticated on-board computer had already given him a solid estimate of how the wind was blowing. So he cast his vote accordingly so as not to waste it.
He was sure Rhodey would understand….
Civic duty done and dusted Iron Man kicked in his thrusters and headed for Earth Orbit.
Galactus was in town and the Fantastic Four wasn't.
Break's over. Time to get back to work.
——————————————————————————————————————
The shot itself didn't take long to achieve. I just took the picture, coloured my stainless steel gauntlets red with Photoshop, and whacked it onto Flickr using my armour's uplink capability. Well, more or less!
What did take a bucket load of time was creating an 'Ofishoil' looking Ballot form. A fun but lengthy process, to be sure. Inspired by seeing all the pictures of their forms that many of my U.S Flickr chums proudly posted.
(Stand up there in back Pockafwye! Yes you! Take a bow. Ta!)
Posted by zero g on 2008-11-09 10:46:27
Tagged: , IRON MAN , TONY STARK , PRESIDENT , ELECTION , OBAMA , BARACK OBAMA , U.S.A , POLITICS , VOTING , 2008 , ARMOR , ARMOUR , GAUNTLETS , BALLOT , U.S. Politics and the World , Imagination , GLOVE LOVE , Marvel Comics , Artistic Appropriation , VOTE , POLLING , Alloys & Metal , The Campaign Trail , The FLICKYS !!! , Creative Tabletop Photography , Super Heroes , Stuff that looks like stuff from science-fiction movies , AVENGER , AVENGERS , IRON MAN 50TH ANNIVERSARY , IRON MAN 50TH BIRTHDAY