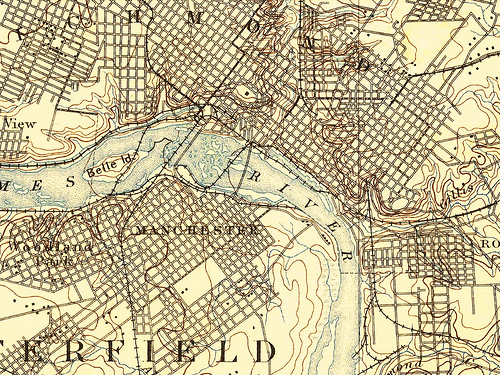 it may positively stun some people when they look closely at an old map; most certainly an old map that shows accurately a lot of the past history of a place that is now familiar territory to only a few men and women of The Greatest Generation.
the streets of the Capital City have these perpendicular hack-marks down the centers…what are they telling the modern viewer??…. that Light Rail was a concept that a man named Frank Sprague thought would work anywhere in the world, no matter how steep the grades might be…
Richmond Union Passenger Company:
The Richmond system was not the first attempt to operate an electric trolley. According to the IEEE, there were at least 74 earlier attempts to provide electric trolley service in over 60 communities in North America, the United Kingdom, and continental Europe. However, these earlier attempts were not reliable enough to replace the existing animal-powered trolleys.
The Richmond system was designed by Frank Julian Sprague. After trials in late 1887, it began regular operation on February 2, 1888, with 10 streetcars. Electric power was supplied through overhead trolley wires (450 volts) for two 7.5 horsepower (5.6 kW) motors on each car. Large cars weighed 6900 pounds, provided 40 seats, and carried up to 100 passengers; small cars weighed 6700 pounds with 22 seats and up to 65 passengers. Running speed was 7.5 miles/hour, with 15 miles/hour as a maximum speed. By June 1888 the system contained 40 cars running on some 12 miles (19 km) of track, including steep grades, and with 30 curves.
Its success proved that electric traction was both safe and reliable. The Boston City Council, after inspecting Richmond's system on September 7, 1888, approved construction the second such project by the West End Street Railway. Boston's trolley was closely patterned upon Richmond's, and again demonstrated its practicality. By 1895 almost 900 electric street railways and nearly 11,000 miles (18,000 km) of track had been built in the United States, and in a little over a decade animal-powered street railways had essentially vanished.
Richmond's electric trolley service ended on November 25, 1949.
now, can you believe that?? Richmond was actually at the cutting edge of a modern technology in the 1880's?? and BOSTON people came down here to take a look at what we had done so THEY COULD COPY IT??
WOW.
now we have a company called Rolls Royce, locating a plant down in Prince George County, just 30 miles to the south, and they are going to show the world how to build jet engine turbines using computer operated additive manufacturing machines. This technology, that is suddenly receiving much attention in the major medias, is a HUGE leap into a form of 'making things', i.e., 'manufacturing', that will be a THIRD WAVE in the great leveling processes of modern history. The FIRST WAVE: the development of electricity production and distribution, first in the democracies of the North and, after World War One, in the rest of the World. The SECOND WAVE: the development of mass communications linkages, just in the recent four decades, in which the computer, the internet, the cell phone, and the social network began to make a person in Mali realize that he has a lot in common with a person in Frankfurt. The THIRD WAVE will be the development of additive manufacturing; the ability, one day, of a shade-tree mechanic who needs a certain part for his antique Studebaker, to be able to take the old one, photograph it with a digital camera, diagram it with a 3-D AutoCADD Program, and then MAKE it from a bag of composite-material-granules and his 3-D Hot Metal Printer into an exact reproduction of the part that broke, and has not been made by anyone since the 1960's.
this THIRD WAVE is going to turn on it's head the Economies of Scale class that you took in college. Well the little old economics professor always said 'the real world is a special case'.
and….maybe the Bostonians will be paying us another visit soon….
with Main Street Station dead center in this map, you must first notice that RVA is the Virginia Capital of Railroads.
www.piedmontsub.com/Richmond.shtml
Some years ago, at a Times-Dispatch newspaper Public Forum, a Federal Reserve Board Governor who works at our local Federal Reserve Bank at the foot of 8th Street in the heart of the city, was asked a question. 'how do you know when the economy is coming back up again?', and he answered that he could tell, on his morning jog across a bridge over the old Atlantic Coast Line Beltline tracks that run between the lanes of the I-195 corridor, by the number of freight trains he could look down and see stopped cold on the rails by the traffic controller of Acca Yards. THAT was the best indication he could find as to how well the national economy was doing… did he know that his office was a few hundred feet over what was once a small freight yard of that same railroad, that in the 1970's was torn up in order for the foundations of the Bank, designed by the same architect who did the World Trade Center in New York City, to be dug into the thick sandy clay of the Virginia Piedmont?
the old short lines that made Richmond and Petersburg a strategic target for the Yankee General named U. S. Grant, can be identified on the map. the politicians and clerks that operated the Government of the Confederacy made their fiery and famous exit from town 'The Night They Drove Old Dixie Down', on the trains of the Richmond and Danville Railroad. Two days later, Abraham Lincoln came up to Rocketts Landing on the River Queen, to pay a visit to the White House of the Confederacy, and to sit in the chair of Jefferson Davis' office. Years later, after the hostilities had died away and the ashes were gone, the Danville 'Road and the Richmond and York River Railroad were bought up and unified as the Southern Railway Company, and you can sit on the deck of Legends Brewery on an early Spring Friday night and see the old freight-yard office over toward the south river bank. the Norfolk and Western railway would merge with this company one day to form NorfolkSouthern.
Not far from Rocketts Landing is Fulton Bottom, an old African-American neighborhood that was virtually abandoned in the mid-Twentieth century and eventually destroyed by urban renewal projects. Why?…where did the people go?…most of the male breadwinners that settled their families there had good paying jobs until the 1960's…on the Railroads. Then came along the Interstate Highway System. A Federally subsidized program for the Trucking Industry…and it still is to this day. These black and brown men worked in the car shops, the engine shops, the rail yards, all around the town… yes, as axle oilers, steam engine firemen, engine hostelers, spike drivers, track gang men, sledgehammer mechanics, boilermakers, coaling tower operators. Hard, grimy, thankless, hot, dangerous, hellish work. But it got unionized…eventually…and it paid the bills…and the Railroads began to die after the Second World War…and so did Fulton Bottom. The Interstate Highway System………….
Next to Fulton Bottom, to the south, is naturally Fulton Yard(s), home of the massive CSX freight and coal car operation; for most of the 110 years, from the day Collis P. Huntington, a small-time California hardware store owner who had sold a LOT of equipment, somewhat overpriced, to gold-bug crazed men looking for fortunes in 1849, had taken over a number of short line railroads in the Virginias after the Civil War, until the deregulation of transportation companies in the mid-1980's, this rail-yard was where eastbound coal trains stopped, the weary crews changed over, and the pusher locomotives were coupled to the rear of the train just back of the caboose, to push the entire consist up the high grade just to the east, and over into the Chickahominy River Basin. This flatland had been one of the legendary and huge 'Indian Fields' that once dotted the riverine plains of Tsenacomacah, or Tidewater Virginia, as the people of the Powhatan Confederation once called the place in the Algonquian language back when the English first arrived in 1607. a slew of English 'Captains' had crossed over this field, or one to the north, between the riverbank near the old Ship Lock Canal Bridge, and the foot of a very steep hill, which they had climbed up, a hill that was very prominent and strategically utilized for tribal defense, to visit one Tanx-Powhatan in the summer of 1607. Was this hill the modern-day Powhatan Hill, or Chimborazo Hill or Libby Terrace Hill? Good gracious, perhaps the occupants of these various promontory abodes should have a good, old-fashioned, round-robin rugby match every October to obtain the bragging rights for the next year.
the Richmond Bridge Company: you see this huge building as you go south on I-95 headed to the Ruritan Club Shad Planking or Nags Head (the back way, so you can go to Wakefield and have some Virginia Diner ham-biscuits for breakfast, or can go thru Edenton NC and lust over the Victorian houses). that giant of a brick & steel structure was, at one time, a mechanical shop for the Seaboard Air Line Railroad, a presumptuously monikered and under-capitalized undertaking, that got a late start in the 1900's, with the beginning of the "let's go to Florida for a week of horse race gambling" craze. did Tony Curtis and Marilyn Monroe actually spend a night in the same berth on one of those New York to Miami specials???. well, Some Like It Hot you know….
the Richmond and Petersburg Railroad, the very important link with the port of Wilmington NC that came under General Grant's eye of interest in August of 1864, was later united with the Petersburg and Weldon line, and one or two more lines, to form the Atlantic Coast Line Railroad. the tobacco factory and storage warehouses that you see at Jefferson Davis Highway and Maury Street, next to the rails of this road, used the contents of the hogsheads of North Carolina flue-cured leaf that were off-loaded there to eventually end up in the cigarettes smoked by thousands of boys-become-fighting-men in the Eighth Army Air Force as it bombed the Nazi war plants… is it just a legend that there was a pack of Lucky Strikes in the survival kit?
and is keeping a separation between the passenger rails and the freight rails a new idea??? maybe you should think again and read the words of King Solomon some more…
the trolley tracks coming into town from Ashland, down the middle of Hermitage Road, almost parallel to the Richmond Fredericksburg and Potomac tracks… it appears some of the people with investment money to spend were thinking that the RF&P railroad would be happy to shed off some paying-passengers so that their high-dollar freight trains would not have to wait on the rails very long on the morning run north to Potomac Yards. a good way to kill two birds with one stone. whenever you are playing a round of golf at Belmont Golf course, take a good look at the well engineered little bridge that goes over the stream known to Lakesiders as North Run, that enabled these inter-urban trolley tracks to make their way up to the Center of the Universe…
it was called the Richmond and Chesapeake Bay Railway. it's investors made tracks to Ashland, but never the Bay. the trick with any railroad-trolley line construction is to get the Location Engineer to put the route along contour lines, not across them; along side of creeks and rivers if necessary, on just one side thereof, holding bridges to a minimum; up on high and flat ground as often as possible. back in our history when land was plentiful for the settlers, and was being sold by the square mile by the Federal Government, the common sense wisdom was to build towns and farms and industries on 'good, high ground', and avoid swamps and mosquitoes and drainage problems. so therefore, railroadmen had few squablles about placement of tracks, because both they and the local citizens were usually on the same page about things.
Edward Gillette, one of the men like Jed Hotchkiss, who did a huge amount of this location work in the West after the Civil War ended, would later on write in his bio that one of the most important facets of putting down railroad track was to make sure maintenance of those tracks was stupid-simple for future owners/operators of them. easily said, but not so done.
And currently there is a small, but growing number of people, who would like this old foregone right-of-way to either become another addition to the inventory of Rails-to-Trails, or a Light Rail line again, which is not entirely a pipe dream, since Dominion Resources/Virginia Power is still using most of the strip for the transmission of high-voltage electrical current.
In RVA, the THIRD WAVE is rolling on down the rivah….
===========================================
"…. People say they love a lot of things, but they really don't. It's just a word that's been overused. When you put your life on the line for somebody, that's love. But you'll never know it until you're in the moment. When someone will die for you, that's love, too."
Bob Dylan, in interview with Mikal Gilmore, excerpted from Rolling Stone magazine, Issue No. 1166, September 27, 2012
========================================
THIS IS ONE OF THE BEST SHORT STORIES EVER WRITTEN BY AN AMERICAN AUTHOR
Subject: Burial At Sea
Powerful stuff. Please take time to read all of this. I wish each American could read this one. I feel too many of us fail to grasp what our young troops have done for us for so long, the freedoms they have protected for us. To only those who would and could appreciate it. This account is one of a kind…a powerful one that touches your heart. Read this slowly and to the end. Tough duty then as it is now.
Burial at Sea" by LtCol George Goodson, USMC (Ret)
In my 76th year, the events of my life appear to me, from time to time, as a series of vignettes. Some were significant; most were trivial.
War is the seminal event in the life of everyone that has endured it. Though I fought in Korea and the Dominican Republic and was wounded there, Vietnam was my war.
Now 37 years have passed and, thankfully, I rarely think of those days in Cambodia , Laos , and the panhandle of North Vietnam where small teams of Americans and Montangards fought much larger elements of the North Vietnamese Army. Instead I see vignettes: some exotic, some mundane:
*The smell of Nuc Mam.
*The heat, dust, and humidity.
*The blue exhaust of cycles clogging the streets.
*Elephants moving silently through the tall grass.
*Hard eyes behind the servile smiles of the villagers.
*Standing on a mountain in Laos and hearing a tiger roar.
*A young girl squeezing my hand as my medic delivered her baby.
*The flowing Ao Dais of the young women biking down Tran Hung Dao.
*My two years as Casualty Notification Officer in North Carolina , Virginia , and Maryland .
It was late 1967. I had just returned after 18 months in Vietnam . Casualties were increasing. I moved my family from Indianapolis to Norfolk , rented a house, enrolled my children in their fifth or sixth new school, and bought a second car.
A week later, I put on my uniform and drove 10 miles to Little Creek, Virginia. I hesitated before entering my new office. Appearance is important to career Marines. I was no longer, if ever, a poster Marine. I had returned from my third tour in Vietnam only 30 days before. At 5'9″, I now weighed 128 pounds – 37 pounds below my normal weight. My uniforms fit ludicrously, my skin was yellow from malaria medication, and I think I had a twitch or two.
I straightened my shoulders, walked into the office, looked at the nameplate on a Staff Sergeant's desk and said, "Sergeant Jolly, I'm Lieutenant Colonel Goodson. Here are my orders and my Qualification Jacket."
Sergeant Jolly stood, looked carefully at me, took my orders, stuck out his hand; we shook and he asked, "How long were you there, Colonel?" I replied "18 months this time." Jolly breathed, "Jesus, you must be a slow learner Colonel." I smiled.
Jolly said, "Colonel, I'll show you to your office and bring in the Sergeant Major. I said, "No, let's just go straight to his office."
Jolly nodded, hesitated, and lowered his voice, "Colonel, the Sergeant Major. He's been in this G*dd@mn job two years. He's packed pretty tight. I'm worried about him." I nodded.
Jolly escorted me into the Sergeant Major's office. "Sergeant Major, this is Colonel Goodson, the new Commanding Office. The Sergeant Major stood, extended his hand and said, "Good to see you again, Colonel." I responded, "Hello Walt, how are you?" Jolly looked at me, raised an eyebrow, walked out, and closed the door.
I sat down with the Sergeant Major. We had the obligatory cup of coffee and talked about mutual acquaintances. Walt's stress was palpable.
Finally, I said, "Walt, what's the h-ll's wrong?" He turned his chair, looked out the window and said, "George, you're going to wish you were back in Nam before you leave here.. I've been in the Marine Corps since 1939. I was in the Pacific 36 months, Korea for 14 months, and Vietnam for 12 months. Now I come here to bury these kids. I'm putting my letter in. I can't take it anymore." I said, "OK Walt. If that's what you want, I'll endorse your request for retirement and do what I can to push it through Headquarters Marine Corps."
Sergeant Major Walt Xxxxx retired 12 weeks later. He had been a good Marine for 28 years, but he had seen too much death and too much suffering. He was used up.
Over the next 16 months, I made 28 death notifications, conducted 28 military funerals, and made 30 notifications to the families of Marines that were severely wounded or missing in action. Most of the details of those casualty notifications have now, thankfully, faded from memory. Four, however, remain.
MY FIRST NOTIFICATION My third or fourth day in Norfolk , I was notified of the death of a 19 year old Marine. This notification came by telephone from Headquarters Marine Corps. The information detailed:
*Name, rank, and serial number.
*Name, address, and phone number of next of kin.
*Date of and limited details about the Marine's death.
*Approximate date the body would arrive at the Norfolk Naval Air Station.
*A strong recommendation on whether the casket should be opened or closed.
The boy's family lived over the border in North Carolina , about 60 miles away. I drove there in a Marine Corps staff car. Crossing the state line into North Carolina , I stopped at a small country store / service station / Post Office. I went in to ask directions.
Three people were in the store. A man and woman approached the small Post Office window. The man held a package. The Storeowner walked up and addressed them by name, "Hello John . Good morning Mrs. Cooper."
I was stunned. My casualty's next-of-kin's name was John Cooper !
I hesitated, then stepped forward and said, "I beg your pardon. Are you Mr. and Mrs. John Copper of (address.)
The father looked at me-I was in uniform – and then, shaking, bent at the waist, he vomited. His wife looked horrified at him and then at me.
Understanding came into her eyes and she collapsed in slow motion. I think I caught her before she hit the floor.
The owner took a bottle of whiskey out of a drawer and handed it to Mr. Cooper who drank. I answered their questions for a few minutes. Then I drove them home in my staff car. The storeowner locked the store and followed in their truck. We stayed an hour or so until the family began arriving.
I returned the storeowner to his business. He thanked me and said, "Mister, I wouldn't have your job for a million dollars." I shook his hand and said; "Neither would I."
I vaguely remember the drive back to Norfolk . Violating about five Marine Corps regulations, I drove the staff car straight to my house. I sat with my family while they ate dinner, went into the den, closed the door, and sat there all night, alone.
My Marines steered clear of me for days. I had made my first death notification.
THE FUNERALS Weeks passed with more notifications and more funerals.. I borrowed Marines from the local Marine Corps Reserve and taught them to conduct a military funeral: how to carry a casket, how to fire the volleys and how to fold the flag.
When I presented the flag to the mother, wife, or father, I always said, "All Marines share in your grief." I had been instructed to say, "On behalf of a grateful nation." I didn't think the nation was grateful, so I didn't say that.
Sometimes, my emotions got the best of me and I couldn't speak. When that happened, I just handed them the flag and touched a shoulder.
They would look at me and nod. Once a mother said to me, "I'm so sorry you have this terrible job." My eyes filled with tears and I leaned over and kissed her.
ANOTHER NOTIFICATION Six weeks after my first notification, I had another. This was a young PFC. I drove to his mother's house. As always, I was in uniform and driving a Marine Corps staff car. I parked in front of the house, took a deep breath, and walked towards the house. Suddenlythe door flew open, a middle-aged woman rushed out. She looked at me and ran across the yard, screaming "NO! NO! NO! NO!"
I hesitated. Neighbors came out. I ran to her, grabbed her, and whispered stupid things to reassure her. She collapsed. I picked her up and carried her into the house. Eight or nine neighbors followed. Ten or fifteen later, the father came in followed by ambulance personnel. I have no recollection of leaving.
The funeral took place about two weeks later. We went through the drill. The mother never looked at me. The father looked at me once and shook his head sadly.
ANOTHER NOTIFICATION One morning, as I walked in the office, the phone was ringing. Sergeant Jolly held the phone up and said, "You've got another one, Colonel." I nodded, walked into my office, picked up the phone, took notes, thanked the officer making the call, I have no idea why, and hung up. Jolly, who had listened, came in with a special Telephone Directory that translates telephone numbers into the person's address and place of employment.
The father of this casualty was a Longshoreman. He lived a mile from my office. I called the Longshoreman's Union Office and asked for the Business Manager. He answered the phone, I told him who I was, and asked for the father's schedule.
The Business Manager asked, "Is it his son?" I said nothing. After a moment, he said, in a low voice, "Tom is at home today." I said, "Don't call him. I'll take care of that." The Business Manager said, "Aye, Aye Sir," and then explained, "Tom and I were Marines in WWII."
I got in my staff car and drove to the house. I was in uniform. I knocked and a woman in her early forties answered the door. I saw instantly that she was clueless. I asked, "Is Mr. Smith home?" She smiled pleasantly and responded, "Yes, but he's eating breakfast now. Can you come back later?" I said, "I'm sorry. It's important, I need to see him now."
She nodded, stepped back into the beach house and said, "Tom, it's for you."
A moment later, a ruddy man in his late forties, appeared at the door. He looked at me, turned absolutely pale, steadied himself, and said, "Jesus Christ man, he's only been there three weeks!"
Months passed. More notifications and more funerals. Then one day while I was running, Sergeant Jolly stepped outside the building and gave a loud whistle, two fingers in his mouth…. I never could do that… and held an imaginary phone to his ear.
Another call from Headquarters Marine Corps. I took notes, said, "Got it." and hung up. I had stopped saying "Thank You" long ago.
Jolly, "Where?"
Me, "Eastern Shore of Maryland . The father is a retired Chief Petty Officer. His brother will accompany the body back from Vietnam ."
Jolly shook his head slowly, straightened, and then said, "This time of day, it'll take three hours to get there and back. I'll call the Naval Air Station and borrow a helicopter. And I'll have Captain Tolliver get one of his men to meet you and drive you to the Chief's home."
He did, and 40 minutes later, I was knocking on the father's door. He opened the door, looked at me, then looked at the Marine standing at parade rest beside the car, and asked, "Which one of my boys was it, Colonel?"
I stayed a couple of hours, gave him all the information, my office and home phone number and told him to call me, anytime.
He called me that evening about 2300 (11:00PM). "I've gone through my boy's papers and found his will. He asked to be buried at sea. Can you make that happen?" I said, "Yes I can, Chief. I can and I will."
My wife who had been listening said, "Can you do that?" I told her, "I have no idea. But I'm going to break my ass trying."
I called Lieutenant General Alpha Bowser, Commanding General, Fleet Marine Force Atlantic, at home about 2330, explained the situation, and asked, "General, can you get me a quick appointment with the Admiral at Atlantic Fleet Headquarters?" General Bowser said," George, you be there tomorrow at 0900. He will see you.
I was and the Admiral did.. He said coldly, "How can the Navy help the Marine Corps, Colonel." I told him the story. He turned to his Chief of Staff and said, "Which is the sharpest destroyer in port?" The Chief of Staff responded with a name.
The Admiral called the ship, "Captain, you're going to do a burial at sea. You'll report to a Marine Lieutenant Colonel Goodson until this mission is completed."
He hung up, looked at me, and said, "The next time you need a ship, Colonel, call me. You don't have to sic Al Bowser on my ass." I responded, "Aye Aye, Sir" and got the h-ll out of his office.
I went to the ship and met with the Captain, Executive Officer, and the Senior Chief. Sergeant Jolly and I trained the ship's crew for four days.
Then Jolly raised a question none of us had thought of. He said, "These government caskets are air tight. How do we keep it from floating?"
All the high priced help including me sat there looking dumb. Then the Senior Chief stood and said, "Come on Jolly. I know a bar where the retired guys from World War II hang out."
They returned a couple of hours later, slightly the worst for wear, and said, "It's simple; we cut four 12″ holes in the outer shell of the casket on each side and insert 300 lbs of lead in the foot end of the casket. We can handle that, no sweat."
The day arrived. The ship and the sailors looked razor sharp. General Bowser, the Admiral, a US Senator, and a Navy Band were on board. The sealed casket was brought aboard and taken below for modification. The ship got underway to the 12-fathom depth.
The sun was hot. The ocean flat. The casket was brought aft and placed on a catafalque. The Chaplin spoke. The volleys were fired. The flag was removed, folded, and I gave it to the father. The band played "Eternal Father Strong to Save." The casket was raised slightly at the head and it slid into the sea.
The heavy casket plunged straight down about six feet. The incoming water collided with the air pockets in the outer shell. The casket stopped abruptly, rose straight out of the water about three feet, stopped, and slowly slipped back into the sea. The air bubbles rising from the sinking casket sparkled in the in the sunlight as the casket disappeared from sight forever.
The next morning I called a personal friend, Lieutenant General Oscar Peatross, at Headquarters Marine Corps and said, "General, get me the f*ck out of here. I can't take this sh_t anymore." I was transferred two weeks later.
I was a good Marine but, after 17 years, I had seen too much death and too much suffering. I was used up.
Vacating the house, my family and I drove to the office in a two-car convoy. I said my goodbyes. Sergeant Jolly walked out with me. He waved at my family, looked at me with tears in his eyes, came to attention, saluted, and said, "Well Done, Colonel. Well Done."
I felt as if I had received the Medal of Honor!
That is all
s/f
Tags: Burial at Sea, George Goodson, Lt Col George Goodson USMC (Ret)
A BIT MORE ABOUT THE COLONEL:
www.thesandgram.com/2009/12/22/internet-legend-ltcol-geor…
THE STORY THAT APPEARED IN THE MARINE CORPS GAZETTE
www.marinecorpsgazette-digital.com/marinecorpsgazette/200…
www.flickr.com/photos/10393601@N08/2705089414www.flickr.c…
==================================================================
With Regret
Whitney Houston's death, while a sad thing, was the direct result of very unwise life choices. It dominates the news.
Charlie Sheen is 45 and his story is all over the news because he is a substance abuser, an adulterer, sexually promiscuous and obnoxious.
Lindsay Lohan is 24 and her story is all over the news because she is a celebrity drug addict and thief.
Something as frivolous as Kim Kardashian's stupid wedding [and short-lived marriage] was shoved down our throats.
Meanwhile…..
Justin Allen, 23
Brett Linley, 29
Matthew Weikert, 29
Justus Bartett, 27
Dave Santos, 21
Jesse Reed, 26
Matthew Johnson, 21
Zachary Fisher, 24
Brandon King 23
Christopher Goeke, 23
and Sheldon Tate, 27…..
Are all Marines that gave their lives last month for you. There is no media for them; not even a mention of their names. Honor THEM by sending this on.
============================================
postscript:
The Medal of Honor is a Valor medal and says this on the Medal itself. it is bestowed on men and women in the military who, in moments of extreme danger, have been willing to sacrifice everything they have to save the life or lives of other persons. it does not belong to the recipient of the Medal. it belongs to everyone BUT the recipient. it belongs to the People of the United States of America as a tribute to the extreme and continuing value that we still place on Honor….a set of Beliefs and Values and Faith that the Nation was founded upon and that will live forever…and the recipient has been recognized by The People of this Country for acting on those Beliefs, those Values and that Faith 'above and beyond the Call of Duty'.
the owners of the Frenchman's Rough Map:
www.colonialwilliamsburg.com/
the Second (maybe Third) Cittie of the Colony:
www.henricus.org/
the folks with the records:
www.dhr.virginia.gov/
those whom the POTUS has to salute:
www.cmohs.org/
en.wikipedia.org/wiki/Wikipedia
www.airforce.com/;http://www.navy.com/;https://www.cia.go…; www.nscorp.com/;
DENNIS TAFLAMBAS
www.dktassociates.com/
Posted by OLD VIRGINIA SURVEYOR on 2012-08-15 13:19:59
Tagged: , CIVIL WAR , ALFRED R. WAUD, CIVIL WAR SKETCH ARTIST , New York City stage scenery designer , Battle of First Manassas , LIBRARY OF CONGRESS , SKETCH DRAWINGS OF THE CIVIL WAR , MILITARY CAMP DRILL , WASHINGTON, D.C. , DANTE , HELL , VIRGINIA HISTORY , AMBULANCES , SOLDIERS , ARTILLERY , DEATH , PEACE , HARPERS WEEKLY MAGAZINE , FRANK LESLIE'S ILLUSTRATED MAGAZINE