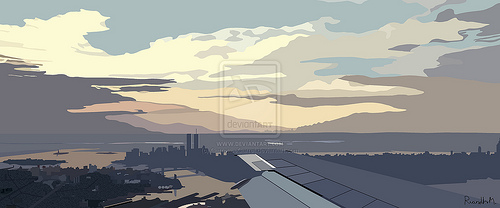 This picture is largely based on the last time I ever saw the Twin Towers, which was in January 2000. We had just celebrated the Millennium in Clearwater, Florida, and were flying back to Europe via New York JFK, which we flew to aboard a Delta Airlines Boeing 727. As we made out final approaches to JFK International, I managed to see a view very similar to this, with the skyscrapers of Manhattan sillhouetted against the setting sun. But because I have such little detailed memory of this beautiful moment in my life, I decided to take my lead from this astounding picture below, which is also taken from a Delta Airlines Boeing 727, but only this one is landing at La Guardia:
www.airliners.net/photo/Delta-Air-Lines/Boeing-727-232-Ad…
Yes I know it's another World Trade Center one, and at this rate I'm going to offend every American follower I have, but there is quite an interesting story to this picture. I actually scribbled this drawing down in 2009 because I was going to make it my masterpiece of masterpieces, and I really wanted to show my Grandma it too. I did the initial drawing and scanned it and was going to make a start on coloring it in, but all kinds of real life distractions pulled me away, such as schoolwork and whatnot. And so for 4 years this sat on my computer in my pictures folder, occasionally with me peering over it but largely forgotten about. At some points I was even tempted to delete it because I felt I would never get round to finishing it.
But last weekend I decided that I was sick and tired of this thing being sat on my computer gathering dust, so I decided to finish it off. However, to my everlasting shame I finished it three years too late for my Grandma to ever see as she sadly passed away in 2010, leaving me with something I had promised myself to complete, but never got round to in time. I hope one day when we meet in a better place I will finally be able to show my Grandma the drawing I devoted to her.
Posted by Rorymacve Part II on 2013-11-21 22:14:50
Tagged: , World Trade Center , Twin Towers , WTC , New York , New York City , NYC , Manhattan , Sunset , Evening , Sky , Delta Airlines , Boeing 727 , La Guardia , Aircraft , Flying , Flight , Landing , Approach , Boeing , Jetliner , Jet , USA , United States of America , Airport