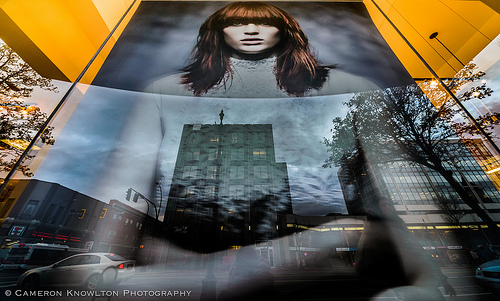 Amanda L @amandalomonaco at 365Project.org challenged me this week to: "try your hand at some candid street photography".
This is my first response. I tried a few others today, but didn't think them worthy of picture of the day, let alone challenge worthy. But, I did like this one.
This was my last day renting the Rokinon 14mm ultrawide lens, firing it on my Nikon D600. I am ecstatic about my new Artic Butterfly sensor cleaner; it removed almost every spec of dust on the first try. No dust clean up on this shot at all!
As a bonus, for some wonderful unknown reason, my Nikon D600 is now recording all the exposure information into the EXIF data, so I have that on record for each of these shots. My first shots on this non-CPU didn't do that, even after setting up the lens parameters in the non-CPU configuration screen.
Such a decent shot, even all the way to ISO 1250. Very little noise reduction done, and even that was very well behaved in the new Adobe Camera Raw 7.3 final release candidate, under Lightroom's control.
Shot for 1/40 second at f/11, ISO 1250 on my Nikon D600, using the 14mm Rokinon ultrawide manaul focus lens.
Posted by Cameron Knowlton on 2012-12-07 00:51:39
Tagged: , street , photography , ultra , wide , angle , Get-Pushed-20 , SPN-31 , bc , building , canada , d600 , fashion , model , nikon , potd , reflection , reflections , rokinon , ultrawide , victoria , wideangle , window , street photography , architectural , architecture , buildings , downtown