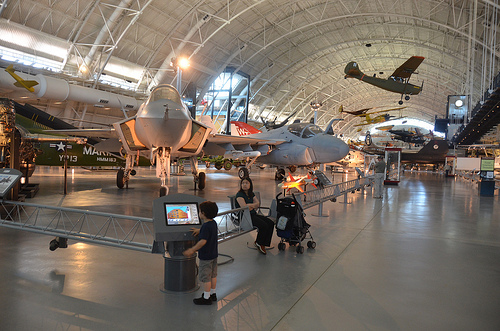 Quoting Smithsonian National Air and Space Museum | Lockheed Martin X-35B STOVL:
This aircraft is the first X-35 ever built. It was originally the X-35A and was modified to include the lift-fan engine for testing of the STOVL concept. Among its many test records, this aircraft was the first in history to achieve a short takeoff, level supersonic dash, and vertical landing in a single flight. It is also the first aircraft to fly using a shaft-driven lift-fan propulsion system. The X-35B flight test program was one of the shortest, most effective in history, lasting from June 23, 2001 to August 6, 2001.
The lift-fan propulsion system is now displayed next to the X-35B at the Steven F. Udvar-Hazy Center near Dulles Airport.
On July 7, 2006, the production model F-35 was officially named F-35 Lightning II by T. Michael Moseley, Chief of Staff USAF.
Transferred from the United States Air Force.
Date:
2001
Dimensions:
Wing span: 10.05 m (33 ft 0 in)
Length: 15.47 m (50 ft 9 in)
Height: approximately 5 m (15 ft 0 in)
Weight: approximately 35,000 lb.
Materials:
Composite material aircraft skin, alternating steel and titanium spars. Single-engine, single-seat configuration includes lift-fan and steering bars for vertical flight.
Physical Description:
Short takeoff/vertical landing variant to be used by U.S. Air Force, U.S. Marines and the United Kingdom, equipped with a shaft-driven lift fan propulsion system which enables the aircraft to take off from a short runway or small aircraft carrier and to land vertically.
Engine: Pratt & Whitney JSF 119-PW-611 turbofan deflects thrust downward for short takeoff/vertical landing capability. The Air Force and Navy versions use a thrust-vectoring exhaust nozzle. The Marine Corps and Royal Air Force/Navy version has a swivel-duct nozzle; an engine-driven fan behind the cockpit and air-reaction control valves in the wings to provide stability at low speeds.
Other major subcontractors are Rolls Royce and BAE.
• • • • •
Quoting Smithsonian National Air and Space Museum | Grumman A-6E Intruder:
The Navy's experience in the Korean War showed the need for a new long-range strike aircraft with high subsonic performance at very low altitude–an aircraft that could penetrate enemy defenses and find and destroy small targets in any weather. The Grumman A-6 Intruder was designed with these needs in mind. The Intruder first flew in 1960 and was delivered to the Navy in 1963 and the Marine Corps in 1964.
The Navy accepted this airplane as an "A" model in 1968. It served under harsh combat conditions in the skies over Vietnam and is a veteran of the 1991 Desert Storm campaign, when it flew missions during the first 72 hours of the war. It has accumulated more than 7,500 flying hours, over 6,500 landings, 767 carrier landings, and 712 catapult launches.
Transferred from the United States Navy, Office of the Secretary
Date:
1960
Country of Origin:
United States of America
Dimensions:
Overall: 16ft 2in. x 52ft 12in. x 54ft 9in., 26745.8lb. (4.928m x 16.154m x 16.688m, 12131.8kg)
Materials:
Conventional all-metal, graphite/epoxy wing (retrofit), aluminium control surfaces, titanium high-strength fittings (wing-fold).
Physical Description:
Dual place (side by side), twin-engine, all-weather attack aircraft; multiple variants.
Posted by Chris Devers on 2011-05-31 03:35:39
Tagged: , Eye-Fi , Somerville , Massachusetts , United States , Smithsonian , Smithsonian Institution , Air and Space Museum , National Air and Space Museum , Steven F. Udvar-Hazy , Steven F. Udvar-Hazy Center , Dulles Airport , Chantilly , Dulles , Fairfax , Virginia , VA , Udvar-Hazy , Lockheed , Martin , Lockheed Martin , Lockheed Martin X-35 , Lockheed Martin X-35B , X-35 X-35B X-35A STOVL record aircraft airplane plane fighter F-35 JSF Joint , Strike , Fighter USAF United , States , Air , Force RAF Royal , Force USN United , Navy Rolls , Royce , BAE , SR-71 Blackbird , SR-71 , Blackbird , jet , supersonic , airplane , aircraft , spyplane , exif:aperture=f/3.5 , exif:exposure=0.025 sec (1/40) , exif:exposure_bias=0 EV , exif:filename=DSC_0038.JPG , exif:flash=Off, Did not fire , exif:focal_length=18 mm , exif:iso_speed=800 , exif:lens=18-200mm f/3.5-5.6 , camera:make=NIKON CORPORATION , camera:model=NIKON D7000 , exif:orientation=Horizontal (normal) , exif:shutter_count=11553 , exif:vari_program=Auto(Flash Off) , meta:exif=1350331358