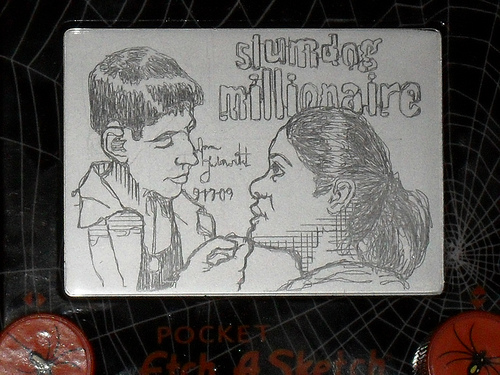 Well after a few days of letting my WIP collect dust in my art drawer, I got sick of looking at an incomplete love scene and decided that simply would not do. So here it is–the completed scene between Jamal and Latika. I just love this movie, it is like a modern fairytale. It made me cry the first time I saw it =] Most of the time while etchasketching this, I was listening to the Slumdog Millionaire soundtrack, specifically Aaj Ki Raat, that song is AMAZINGGG!
There are a few proportional problems with this piece–specifically the proportions between the head sizes of Jamal and Latika's heads. But you know what? It's on an ETCHASKETCH. It is really hard to map out proportions on them lol
This should have only taken me about 2 hours, but since I worked on it from the computer it took me much longer. All in all, I am pretty satisfied with this piece, and it was a great way to introduce my etchasketching to Chicago. I think I am going to start doing some etchasketching in Millennium Park, there are so many things to etchasketch out there the knobs of my etchasketches are trembling with anticipation and excitement! Anyways, I better cut off this ramble before it gets TOO off topic…enjoy! Oh and critique if you like, but there is no way I can fix it really, it's an etchasketch.
Posted by Princess Etch a Sketch on 2009-09-19 07:26:13
Tagged: , slumdog , millionaire , slumdogmillionaire , etchasketch , jaiho , jai , ho , danny , boyle , dannyboyle , jamalmalik , jamal , latika