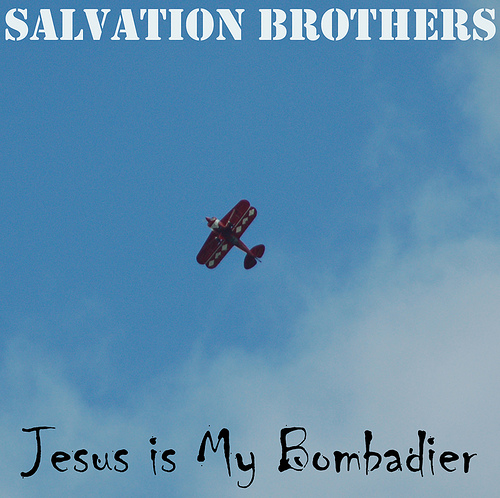 (RPI MusicNews) – Leaving no major religion unscathed in a tsunami of grinding feedback and feral screams, Jesus is My Bombadier, the sophomore effort from the Billings, Montana Christian hatecore trio Salvation Brothers makes it clear from the opening track "My Way or the Hellway" that the band cares less about making friends than saving souls – on their own uncompromising terms.
With the remaining song titles too offensive for publication, it's also clear the band's mission extends far beyond making just "music to blast while slaughtering unbelievers."
"Look, we testify to The Way and The Way is pretty simple. You can't get to heaven unless it's through Jesus, and you can't really get to Jesus unless it's through Ned," explains drummer Jessie Samkin, speaking of the group's frontman/guitarist/spiritual leader Ned Jacobs.
"Jim Jones, David Koresh, Henry Kissinger – these were false prophets," Jacobs explains. "I am the REAL DEAL. Look here's proof," he says, rolling up his sleeve to reveal a tatoo reading "The REAL DEAL."
Jacobs had his religious epiphany while recovering from food poisoning from a bad prison cafeteria taco during a 3-year stint at a Georgia minimum-security correctional facility for aggravated assault on a mime.
The group, currently living together in a dingy 2-bedroom apartment above "The Snack Shack" in downtown Billings, hopes to someday buy a ranch and set up a religious utopia/armed compound from which it will it one day launch what Jacobs calls "The War of Salvation."
According to Jacobs, first phase of the coming war will be launched when the Chosen One (Jacobs himself) gives three blasts from "The Trumpet of the Archangel" – an action that according to Jacobs will cause all churches, mosques and synagogues to crumble into dust.
"At that point a billion-strong army of True Christian Centurians will rise up to wreck slaughter and death on the unbelieving hordes," he says.
As a bonus feature, the CD comes with a computer-animated simulation of this apocalyptical prophesy.
In the meantime, the band hopes their sophomore effort sells better than their debut – "Smells Like Burning Unbelievers" – which sold 16 copies.
The band is still setting up its tour in support of the album, but to date has only booked a single date, "KlanFest & Boogie 2007," next spring at an undisclosed location in rural Georgia.
Posted by tgbusill on 2006-11-19 13:42:17
Tagged: , cd , album , cover , art , immaginary , band , satire , humor , nikond50 , d50 , malvern , absurd , music , hatecore , religious , intolerance , fiction , review , parody