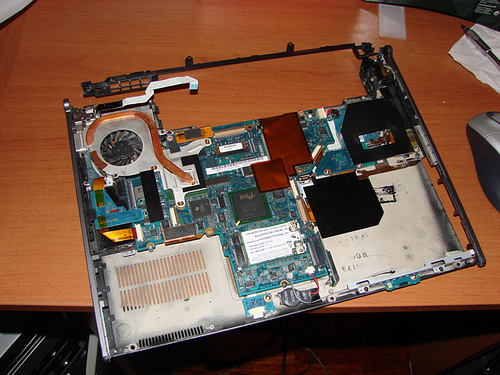 PART III
[Beginning of the story at the first photo]
…Having some minimal experience of working with laptops, I know that one of the most serious problems they may have is overheating, which is usually caused by the dust that builds up around the fan – which, apart from the aluminium plates designed to absorb heat, is the only cooling device for the entire machine. I figured out that most apparently, this was just the problem my PC had.
So, I got out some numbered plastic bags for the screws, downloaded a sheme for the laptop and started disassembling it. To tell the truth, this laptop wasn't made for non-professional maintenance, believe me. Most VAIOs, or at least, an older model I previously owned had a very comfortable access both to the motherboard and the fan from the bottom of the computer – unscrewing a panel was enough. Over here, to get the the CPU fan, I had to take off everything – and by everything I do mean EVERY SINGLE PIECE OF HARDWARE – including the motherboard.
[Follow the Photostream for the rest of the story]
Posted by Unknown-Artist on 2008-02-06 22:36:39
Tagged: , Sony , Vaio , SZ Series , Laptop , Autopsy , PC , Computer , Hardware , Unknown Artist