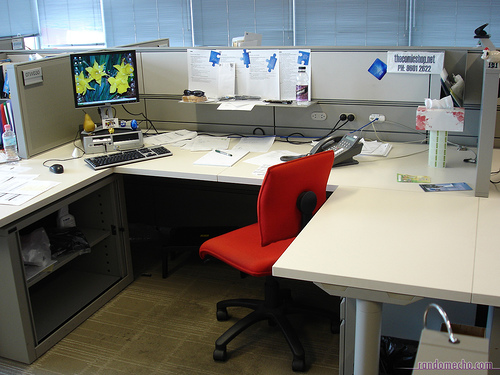 There are places to work and places to do nothing at all. In the current adventures of Return to Parsing, it is a mixed match meld of the two. Over looking King Street Wharf on two of the three sides, it's hell with harbour views. Only it's not really hell and more a luxury in doing what grammar and style demons are all about.
Note the awkward nature of the cabinet underneath the desk and the angle of the computer and keyboard. Ergonomically unsound to the extreme, it's a placing made to look out into the harbour and wharf. Otherwise, just the plain view of blinds or the face/back of the head of the bloke on the cubicle in the right off panel.
And yes, it's super fine ears that pick up a whispering phone when not looking at the display flash red with an incoming.
Posted by Soon. on 2007-04-04 15:37:06
Tagged: , work , desk , chair , computer , table , cubicle , confines , lunch , empty , gone , wallpaper , rubble , refuse , junk , clutter , props , level7 , interior