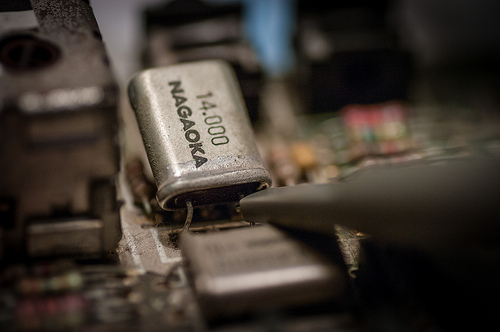 The 14Mhz crystal oscillator from a ZX Spectrum 48K, getting a scope probe. It still works but the output looks wobbly.
TECHNICAL ALERT!
There are two oscillators in the Speccy, the other relates to the TV output signal, this one is pretty much the master clock which drives many things, including the CPU, once divided up correctly.
NON-TECHNICAL VERSION:
Stuff happens that you don't understand or care about.
Posted by Robee Shepherd on 2013-03-16 13:39:32
Tagged: , 14Mhz , Circuit Board , Crystal Oscillator , DOF , Dirt , Dust , Nagaoka , Probe , Retro , ZX Spectrum